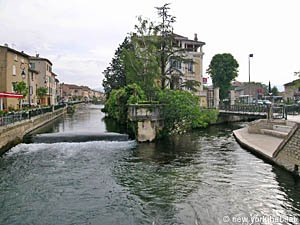 L'Isle sur la Sorgue
This unique island village, L'Isle sur la Sorgue, in the South of France rests at the foot of the Vaucluse plateau and is built on five branches of the Sorgue river. Canals dotted with water wheels wind through the city between the narrow ancient streets, giving the town the nickname, "Venice of the Comtat."
Despite being ravaged by the French Revolution and later WW II, L'Isle sur la Sorgue has conserved parts of its history in its buildings and ancient structures.  In the "vieille ville," the heart of the old city, stands Notre-Dame-des-Anges, a church built in 1222 and rebuilt in the 17th century.  There is also a museum in honor of Petrarch, the famous 14th Century Italian poet, who settled in the village. The main attraction of the town, however is its walkable streets that spread out from the vieille ville.  The streets amble around the picturesque waterways, and are lined with cafés, bakeries and shops.
L'Isle sur la Sorgue will also delight antique lovers with its 300 permanent antique dealers.  Second-hand shops here also make it a destination for bargain hunters.  In addition, every Easter and over the August holiday, the town hosts antique fairs that bring hordes of dealers and customers from all over the world.
If the charm of this antique-filled town on the water appeals to you, New York Habitat offers a variety of South of France accommodations to choose from based on your length of stay and the number of people.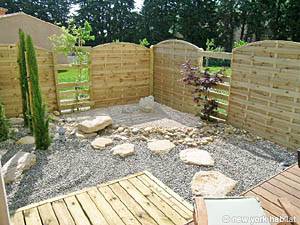 South of France Accommodation: Studio in L'Isle sur la Sorgue, Avignon Region (PR-727)
You might consider New York Habitat's studio in L'Isle sur la Sorgue, Avignon Region (PR-727), available for rental from three days to one month. A couple who recently stayed here commented, "We enjoyed very much our stay in L' Isle sur la Sorgue. The apartment was very nice and clean." This elegant garden studio is inside a private gated residential area, and is a few minutes' walk from the center of town.  A living room with a convertible bed, dining area and open kitchen make this studio comfortable for two people.  A bay window faces a landscaped garden and terrace, which guests are welcome to enjoy.
Outside of town, a larger family-sized accommodation is this five-bedroom villa in Les Valayans, Avignon Region (PR-631).  This tastefully renovated farmhouse is located in a small village between the historical Avignon and Carpentras, about 12 kilometers from L'Isle sur la Sorgue. This house is available for weekly or monthly rentals throughout the year and can accommodate 8 or 9 people.  As an older property, the rooms in this house are graciously proportioned.  In the living room, exposed beams, stone walls and a fireplace give this home a typical country French feel.  The huge eat-in kitchen and dining room both have windows looking out onto the leafy tree-filled garden, at the end of which is a private pool.  This house is located near a small hamlet that has a bakery, a grocery, a bar, a little restaurant and a hairdresser. Staying here, you'll need a car to enjoy the many attractions in Luberon or the Alpilles , which are both about 30 minutes drive away; the Ventoux Mountain is close by; and other small villages of the Avignon region are within driving distance.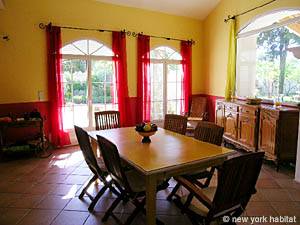 South of France accommodation: 5 Bedroom Rental in Les Valayans, Avignon Region (PR-631)
With its unique layout of waterways and ancient architecture, "Venice" of the South of France is really unlike any other village in the region. Whether you want to amble through the streets of L'Isle sur la Sorgue alone, listening to the babble of water-filled canals, or whether you'd like to hunt for antique bargains with a few friends, or take drives through the mountains, New York Habitat's accommodations here make it easy to suit your vacation wishes.
For more travel tips about the South of France, keep checking our blog for updates and articles.
Related apartment rental posts from New York Habitat: