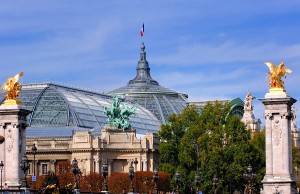 Grand Palais, Paris
For most Americans Marie Antoinette is curiously the most interesting figure from the French revolution. From all accounts she was a beautiful yet naive character, an Austrian in French royalty who played a rather small, if only symbolic, role in the before, during and after of the revolution. Compared to that of a revolutionary like Maximilien Robespierre her life was rather boring (aptly portrayed in Sofia Coppola's hate-it or love-it biopic). The seminal moment in her life was when her head was chopped off–and still we simply cannot get enough of Marie Antoinette. This spring at Paris' Grand Palais, in the popular 8th arrondissement, an exhibit explores Marie Antoinette and the multiple interpretations of her historical figure. Like everywhere in Paris New York Habitat has apartments big and small steps from the national gallery.
The Galeries Nationales du Grand Palais is truly one of Paris' grandest exposition centers. The expo displays over 300 paintings, sculptures and art objects uncovering the life of Marie Antoinette from her youth in Austria, young adulthood at Versailles to her last days in the Conciergerie, a Seine-side prison located in the 1st arrondissement and still standing today. Perhaps her special draw is in the ambiguity of her story, she's been portrayed as a naive victim, keen seductress and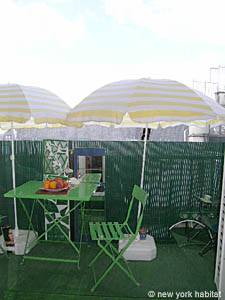 Paris Accommodation: Studio vacation Rental on Champs Elysees (PA-3551)
gluttonous despot sometimes all in the same story. Or it could just be that a beautiful French queen having her head chopped off by an angry mob makes for a good story. For some the pieces on display will clarify Marie Antoinette as a person and historical figure–for others the art at the Grand Palais will simply add to the dauphine myth.
Revolution is over in Paris so relax, plus New York Habitat has apartment rentals throughout Paris. For example:
This 2-bedroom rental accommodation in Parc Monceau, Champs Elysees (PA-2623) is in one of the city's chic neighborhoods and is a short walk from the Grand Palais. Also, this small and funky studio vacation rental apartment (PA-3551) is on the Avenue Champs Elysees, need we say more?
Let her eat cake or off with her head? Was Marie Antoinette an unfortunate victim of Versailles or a worthy test subject for the guillotine? How do you view Marie? Comment Below.
Another exhibit to see in Paris:
Ben Franklin: the First American in Paris
Related apartment rental posts from New York Habitat: