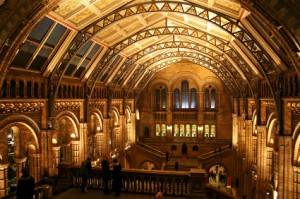 The main hall of the London Natural History Museum
London, like New York and Paris, is made up of dozens of distinct neighborhoods, each with its own feel and personality. Every year, a new one comes in or goes out of fashion, and there are always a few up and coming areas waiting to be crowned the next "happening nabe." But of all the amazing spots to stay in London, the one that never loses favor is the part of South Kensington near Cromwell Road that comprises the Museum Mile. Trust us on this—if you never venture more than twenty minutes in any direction, you'll still see so much of what gives London its timeless character and charm.
Staying in a vacation rental in South Kensington will let you feel like you've been part of this neighborhood for years, even if you're only there on a two-week holiday. This is the section of London you will want to return to time and again. It's the one that instantly feels like home.
Cromwell Road runs right in front of The Natural History Museum, The Science Museum and The Victoria and Albert (V&A) Museum—and it's possible to make a day out of—and devote an article to—each of these. If prehistoric fossils, earth science and the environment are your interests, you need look no further than The Natural History Museum. In fact, you'll want to rent one of our nearby accommodations so you can roll out of bed each morning and see which exhibits and daily programs the museum has in store for you, including once-in-a-lifetime experiences like getting to play the theremin (that space-age instrument used in every '50s sci-fi film and at the end of The Beach Boys' "Good Vibrations").
Even if you're not so much into fossils and the like, The Natural History Museum itself is an absolutely gorgeous building, like a cathedral with sweeping staircases and high ceilings that just happens to have a reconstructed T. Rex in its lobby. It's free, so venture in for a look—but be warned that you will probably not emerge again for a few hours since you are sure to find something of interest inside. Many of the museum's changing exhibits are more art than archaeology, such as the current Shell's Wildlife Photographer of the Year. If you're traveling with kids, there is no better place in London, so plan on making a few repeat visits.
Since The Natural History Museum will most likely become one of your neighborhood hangouts, it's a nice idea to fall into the habit of having your morning coffee there. When you leave your convenient apartment in South Kensington, stop by any of the local cafés (Patisserie Valerie is particularly recommended for its croissants), get a coffee to go and head to one of the museum's many benches near its small but serene (and still relatively secret) outdoors nature walk, which simulates different ecosystems. It's a relaxing, unrushed way to start a morning of sightseeing.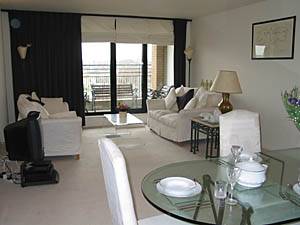 London Vacation Rental: 2 bedroom apartment in South Kensington (LN-77)
Get a full-on English breakfast at the small restaurant attached to South Kensington station or a take-away crepe at the shop nearby before you head off into the Underground. Otherwise, stay above ground and stroll down the shopping district, which starts where Cromwell Road turns into Brompton and leads you toward Knightsbridge and the haven that is Harrod's. On the way, stop at the Oxfam thrift shop for some uniquely London souvenirs (proceeds go to charity) then hit the Laduree for its famed French macaroons—and a marble floor on which to rest all your shopping bags. For a more substantial meal, stop by your local, The Bunch of Grapes pub, for a ploughman and some soccer on the telly.

When you return home in the evening, make sure to stop again outside The Natural History Museum, which is even more astonishing lit up for the night.
If you want to get a feel for this perennially favorite neighborhood, we suggest staying in our:
A stay in any of these vacation accommodations is a good way to welcome yourself to the neighborhood. And if you have you been to The Natural History Museum recently, please leave your comments below.
Related apartment rental posts from New York Habitat: