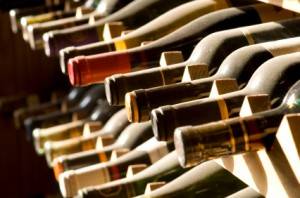 Discover top spots to enjoy wine in London
Beer may be Britain's drink of choice, but wine is fast catching up in popularity among Londoners. To get some wine-tasting in on your next trip to London, New York Habitat is bringing you a short list of the city's top spots for connoisseurs and amateurs alike—and, while you're there, how about a toast to your comfortable and convenient New York Habitat vacation accommodation in London?
Caponata is a recently opened restaurant in Camden that offers a small but well-selected list of Sicilian wines. What makes it really special, though, is its leafy ground-floor osteria that features live jazz. What better way to spend an evening than with good wine and music?
If you're searching for a broader selection, head to Kensington Wine Rooms, which has over 100 wines to choose from, many from lesser-known regions and plenty of by-the-glass options that you won't find elsewhere. Glasses are poured from Enomatic machines that work like soda dispensers but keep the wine fresh and at the exact right temperature. Guests can help themselves by buying a 'smartcard' for a determined amount and then sample away!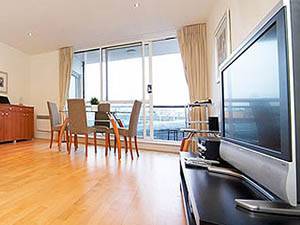 London Accommodation: 2 Bedroom Apartment Rental in Southwark (LN-1103)
For another extensive list, there's Vivat Bacchus on Farringdon Street, in the City, whose cellar holds over 20,000 bottles of wine! What it may not carry, however, are the natural wines and artisanal cooking on hand at Terroirs in Charing Cross, which has become a hit with the locals.
A great setting makes any glass of wine taste better, so check out 1707, the wine bar in famed department store Fortnum & Mason's lower-level food hall. There, you can enjoy New World wines in traditional, elegant, Old World surroundings. It is located in the highly popular and trendy Soho, a neighborhood offering plenty of convenient accommodations. A more modern alternative can be found in fashion emporium Selfridge's Wonder Bar, which has a wine jukebox that measures out good-sized samples and experts on hand to offer advice.
Of course, another choice is to stop by Green & Blue, which is half wine bar, half wine shop, and pick up a bottle to bring back to your stylish—and much more intimate—New York Habitat flat in London. Some suggestions are: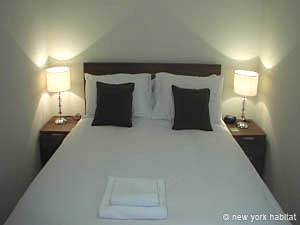 London Accomodation 1 Bedroom in City (LN-718)
-A modern and spacious  2 Bedroom vacation rental in Southwark (LN-528) that comes with a wonderful balcony looking directly onto the river Thames and great amenities such as Sky Satellite TV.
-A 1-bedroom rental accommodation in City (LN-718) that has contemporary furnishings and clean lines. This flat comes complete with a laundry/dryer, one double bed plus a double sofa bed, a welcome pack, well-stocked kitchen amenities and free shampoo and conditioner to boot!
So enjoy your stay in London, which is quickly becoming a wine capital of the world, and raise a glass to your New York Habitat accommodation. Salud!
Have a favorite wine destination in London? Let us know with a comment below.
Related apartment rental posts from New York Habitat: