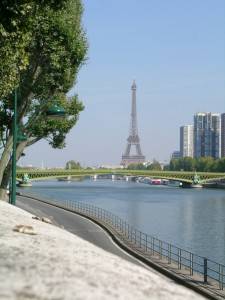 Paris Photo
Paris is a photographer's delight. For every cliché snapshot of the Eiffel Tower there is a stolen image of another corner of this photogenic city. And for every realist picture of a lover's embrace on a Parisian quay there are moments and angles of abstraction found in the French Capital. It is truly difficult to catch this city on a bad day. It is always posing with a seductive grin, waiting to again be immortalized by both amateurs and professionals alike. No matter how many photos of Paris we see, the city continues to beckon us from afar. And anyone who has been lucky enough to gaze onto the beauty of the City of Light knows that a picture doesn't lie.
Not only does Paris photograph particularly well, but Parisians have a true love affair with the art of photography. The city produced the street photographer Henri Cartier-Bresson, a father of modern photojournalism and a man who produced much of Paris' iconic imagery. Paris also was the home of Robert Doisneau whose photograph Le Baiser de l'Hotel de Ville has been immortalized countless times on posters and magazine pages the world over. Perhaps a reason for the prominence of French photographers has been the way in which photography is treated. Parisians take photography seriously as a visual art and there are dozens of galleries around the city that cater solely to the work of camera and subject. The Paris Photo event, held every year since 1997 is a celebration of the city's love of artistic photography. The 2009 event will highlight the Arab and Iranian photography scene yet will represent the work of 500 international photographers. The Paris Photo event will take place from November 19-22 in 2009 at the Carrousel du Louvre, in the 1st arrondissement.
New York Habitat still has plenty of picture-perfect apartments available in Paris during the Photo event. A few accommodations are listed below to help get your search started:
-This funky 1-bedroom rental apartment in Marais-Les Halles (PA-336) has a wonderful right-bank location and cool, bohemian stylings.
-This 1-bedroom rental accommodation in Montmartre-Sacre Coeur (PA-684) features a modern, clean design with some classic French touches.
-This 2-bedroom apartment in Trocadero, Auteuil-Tour Eiffel (PA-1087) can accommodate up to five guests in the heart of Haussman ian Parisian architecture.
What is your favourite image of Paris? Why do you think that the French seem to value photography as an artistic medium more than North Americans? Please Comment Below.
Related apartment rental posts from New York Habitat: