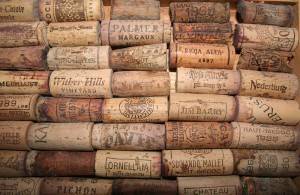 Wine Corks
Looking for the perfect reason to visit New York this winter? Look no further then the 3rd annual Wine Expo taking place from February 26th to February 28th. This year's wine expo will take place at the Jacob Javits Convention Center at the edge of Midtown West.
In conjunction with the event New York Habitat has a special offer for our customers visiting New York. We are offering 10% off of our agency fees for anyone attending the Wine Expo. Just send or e-mail a copy of your ticket or a copy of the receipt from your ticket purchase before you complete your booking to receive the discount. The New York Wine Expo has generously extended a $10 discount off the price of tickets to anyone booking an apartment with New York Habitat (now through January 31st, 2010).  Just use the code HABITAT on the New York Wine Expo website when purchasing your tickets.
The event has two public sessions:
• Friday February 26th from 6p.m. to 10p.m.
• Saturday February 27th from 2p.m. to 6.p.m.
The Wine Expo will feature over 170 winemakers who will be sampling some 600 wines from regions including France, Italy, South America, California, New York, Oregon and more. The event also has several seminars about wine. Speakers include: Gloria Maroti Frazee and Leslie Sbrocco.
If you are looking to stay near the Javits Center, either in a Midtown West apartment or a Chelsea accommodation, New York Habitat has something for everyone. Some of our favorite winter choices include:
• A one bedroom vacation rental in the heart of Times Square in Midtown West (NY-12046)
• A one bedroom accommodation just a few blocks from Javits Center in Midtown West (NY-12989)
• A Two bedroom vacation rental in Midtown West (NY-11972)
If you have been to the New York Wine Expo before share the top wines that you sampled, and if you plan to attend this year let us know which wines you hope to try in the comment section below.
Related apartment rental posts from New York Habitat: