Hi, I am David Hill with New York Habitat.  This video will show you some fun things to do in the winter in New York.
Most tourists choose to or can only visit New York in the warmer months of the year or during major holidays, which can make for an expensive vacation.  While the average tourist avoids New York City during the winter months between January and March, you may be surprised to know that there are many great events and fun things to do during the winter .  Because it's a slow time for tourism, New York Habitat offers seasonal travel deals on New York vacation rentals throughout the city.
Click above to watch this video: Fun Things to do in Winter in New York! (5:47)
One great yearly event takes place for two full weeks at the end of January and beginning of February. It's called Restaurant Week. The trendiest and best restaurants in New York serve their most delicious 3-course meals for one flat price, usually around $25 for lunch and $35 for dinner.Come and taste New York City's trendy-urban and most innovative food!  Participating restaurants include Bond 45, The Blue Fin, AJ Maxwell's, Chez Josephine and many more.
Ice Skating Rinks:
The ice skating rink at Rockefeller Center attracts many people each year.  The rink is located in the center of the Rockefeller Center complex of buildings between 47th and 50th Streets and between 5th and 7th Avenues.  It can accommodate up to 150 skaters and is open from October to April.
Skating at Wollman Rink in Central Park on a magical winter night can give you a picturesque view of the city.  Wollman Rink offers ice skating classes, recreational skating and spectator space for the those who prefer to sit back and watch.  You can find information on hours and admission fees by calling 212-439-6900
The Pond at Bryant Park is a state of the art skating rink where you can see a breathtaking view of NYC, while skating.
New York Fashion Week: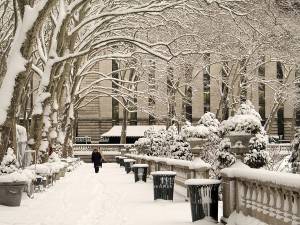 Bryant Park in Winter
Besides the ice skating rink, Briant Park also hosts the fall 2010  New York Fashion Week; held in mid-February.  Journalists, editors and celebrities gather here to view top fashion designers present their fall collections and dress up the night!  You might run into a celebrity, you never know!
For more information about the schedule of events, check out the fashion week website.
Chinese New Year:
Chinese New Year begins anytime between late January and mid-February depending on the lunar calendar and Chinatown is the epicenter of the celebrations for this fun and happy holiday.  Each year is represented by a different symbol or animal and giant colorful figures of tigers, dragons, monkeys, pigs and snakes are paraded down the streets of Chinatown.  People exchange monetary gifts in red envelopes and eat traditional food and pastry.  You won't want to miss this fun event!
And at the MoCa, Chinese American Museum of Art, there are many classes and events during this period, like Lion dancing, how to make dumplings, how to speak Mandarin, and more.
Black History Month:
February has been declared "Black History Month" in the U.S.  During this month, many cultural and educational events and concerts are held at the Schomburg Center for Research in Black Culture in Harlem.
Madison Square Garden:
Few cities have an arena right in the middle of town, but in New York you'll find Madison Square Garden between 7th and 8th Ave at 32nd Street in Chelsea. Check out their online calendar. They've got fantastic events going on all winter long – Barnum & Bailey Circus, the Cirque de Soleil, the annual Westminster Dog Show and of course, the New York Knicks and the New York Rangers for all those basketball and hockey fans out there.
At the end of February the Jacob K. Javits Center in Midtown West presents the New York Wine Expo, a 3-day exposition of over 600 wines from over 170 top wine makers around the world.  Don't miss this great opportunity to taste some of the best wines all at once and even ask questions to the wine experts.
St. Patrick's Day Parade:
One fun and meaninful event in New York City is the St. Patrick's Day Parade, which occurs every year on March 17 to honor Saint Patrick and to celebrate Irish Heritage and Culture.
Irish immigration has shaped New York from its early days and each year Irish descendants, along with the Mayor of New York, parade down Fifth Avenue to the sound of bagpipes played by Irishmen in kilts.
These fun winter events keep NYC warm and alive.  And if you come to NY during this time, you'll find great savings on New York Habitat apartments between early January  and late March of each year.
Not only will you save money on vacation rentals, but you and your family and friends can stay together in the same home with a fully equipped kitchen where you can cook and save even more.
New York Habitat has vacation rentals, furnished apartments and rooms in shared apartments all over New York City in very convenient locations.
Take a look at this furnished studio apartment in Murray Hill, Midtown East (NY-12300).
There's also this studio furnished apartment in the Financial District (NY-14606), in a luxurious building with 24h doorman and a gym center.
There are many other events in January, February and March in New York City.  If you know of any good events, please let me know by adding a comment in the comment section below.
Related apartment rental posts from New York Habitat: