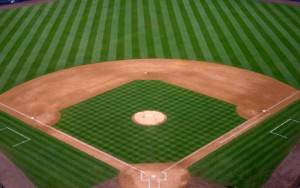 Baseball Field
Play ball! Thursday, March 31, 2011 marks Major League Baseball's Opening Day, and in baseball-crazy New York, home to two major league and two minor league teams, the date counts as a major milestone marking the arrival of spring. Can Derek Jeter fix whatever was wrong with his swing last year? Can the Mets make it through one season without having their lineup decimated by injuries? These are the questions that are already weighing on New Yorkers' minds.
The New York Yankees play their home opener against the Detroit Tigers on March 31 at Yankee Stadium, located in the Bronx and easily reachable by taking the 4, B, and D subway trains to the 161st Street—Yankee Stadium stop. As you may have heard by now, this Yankee Stadium isn't the legendary "house that Ruth built," but a newer model, incorporating design elements from the original, which opened in 2009 and boasts state-of-the-art concessions (and a lot more bathrooms, which is just as important).
Over in Queens, meanwhile, the New York Mets play their first home game against the Washington Nationals on Friday, April 8 at Citi Field, which also opened in 2009. As with the new Yankee Stadium, a wide choice of eating options is a highlight of the new park, with Shake Shack (superior burgers, fries, and shakes) and Blue Smoke barbeque being two standout attractions. Queens provides relaxing and nice accommodations for baseball fans.(Citi Field is easily reachable from midtown Manhattan by taking the 7 train or the Long Island Rail Road to the Mets–Willets Point station.)
You can also enjoy a quintessential New York baseball experience courtesy of the city's minor league teams, whose seasons run from mid-June to Labor Day. Located in Coney Island, Brooklyn, right off the famous boardwalk, the stunning MCU Park is home to the Mets affiliates the Brooklyn Cyclones. The Atlantic Ocean and iconic Coney Island amusements like the Parachute Drop are visible right over the outfield walls at MCU Park—and seen together as one panorama on a summer night, they make for one of the greatest views you can get anywhere in New York City.
And just across New York Harbor, the equally scenic Richmond County Bank Ballpark plays host to the Staten Island Yankees, the affiliates of their namesakes up in the Bronx. Richmond County Bank Ballpark is located on the most northern tip of Staten Island, adjacent to the Staten Island Ferry terminal, so all you have to do to get there is take the subway to the southern tip of Manhattan and hop on the free Staten Island Ferry.
Interested in catching a baseball game during your stay in New York City? New York Habitat has apartment rentals all over Manhattan that will allow you convenient subway access to any of the city's four baseball parks.
- This fully furnished, 1-bedroom rental in Midtown East, New York (NY-14467) is a duplex with garden access. Its location puts it within walking distance of a major shopping district, the United Nations, Grand Central Terminal, and several major subway and bus lines.
- Not far away, a furnished studio rental in a postwar building in Midtown East, New York (NY-11265) comes with a 24-hour doorman and laundry facilities in the building. All of this studio's windows face to the south and back, which means you'll enjoy both sunlight and quiet, both of which come at a premium in the city.
- Another furnished 1-bedroom rental in Gramercy, New York (NY-15935) sits on the 4th floor of a walk-up building, with oversized windows overlooking the street and letting in natural light. The East Village's lively nightlife is only blocks away, and the proximity to Union Square means you'll have ready access to most major subway lines.
Do you have a favorite memory of New York baseball, or expectations for the season ahead?  Please feel free to share your thoughts below.
Related apartment rental posts from New York Habitat: