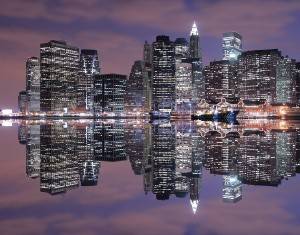 New York Skyline at night in the summer
In less enlightened parts of the world, it's true, benighted souls may toss around phrases like "dog days" to describe the latter part of the summer. But here in New York City, there's no need to think that way! Because August in the big town offers a wealth of activities for visitor and native alike – so many, in fact, that your friends in the Hamptons can only dream of having this much fun. Here, as a public service, New York Habitat offers just a sampler of options to get your imagination going.
Music lovers may not need to be told that the Mostly Mozart Festival holds sway at Lincoln Center for nearly the whole month of August. The Center is located in the Upper West Side, a part of NYC with charming vacation rentals. An international roster of ensembles and soloists will be on hand to perform some of Wolfgang Amadeus's greatest works, from Don Giovanni to the Requiem, and this year a healthy amount of Beethoven and Stravinsky spices up the mix as well. The Festival's A Little Night Music series, pocket-sized late-night recitals in a 10th floor penthouse, are especially worth catching; check out the Mostly Mozart site for more info on those and the complete lineup.
A world away from Lincoln Center, the New York International Fringe Festival (FringeNYC) is a theater festival that presents more than 200 companies from around the world in shows all over lower Manhattan for 16 days in August. If you have a taste for the innovative, the indie, and the just plain zany, this is the event for you. Tickets to all Fringe shows are $15 in advance (a fraction of what most Broadway and off-Broadway productions cost), and there are also whole series of shows, FringeJr and Fringe High, specifically geared for children and teenagers. Visit the FringeNYC website for a complete list of this summer's shows and venues.
Meanwhile, if you feel an irresistible need to get out and boogie, Warm Up 2011 at P.S. 1, just over the river in Long Island City, Queens, runs every Saturday afternoon all the way through Labor Day Weekend. One of the city's most popular outdoor dance parties for more than a decade, Warm Up draws raves for its inspired mix of experimental live music, sound, performance, and DJs, all in the courtyard of the P.S. 1 Museum. (The $15 admission is good for the Museum and the dance party, so you can take a break by checking out P.S. 1's latest exhibits.) P.S. 1 is easily reached by subway and bus, and a new ferry service from midtown Manhattan even gets you there by water. P.S. 1's website has directions and other details.
In town for the latter part of the summer? No matter which direction your interests take you in, New York Habitat has the ideal apartment for your visit. The following are just some of the possibilities:
- Theater lovers, take note: this furnished one-bedroom rental apartment in the Upper West Side of New York (NY-5684) is located just minutes away from Lincoln Center, on the 22nd floor of a high-rise building with a 24-hr. doorman. The exceptionally inviting interior boasts all eastern exposed windows and tasteful modern furniture, along with a home entertainment center in the bedroom.
- This furnished three-bedroom apartment in Astoria, Queens (NY-12772) is located on the second floor walk-up of a prewar townhouse. Amenities include a fully equipped kitchen, a dining room table that can seat four people, and free wireless access. Astoria fairly bustles with shops and restaurants, and the nearby subway means that Long Island City and Manhattan are never more than a few minutes away.
- A furnished two-bedroom apartment in the East Village, New York (NY-12320) is on the sixth floor of a prewar building with an elevator. Windows overlook the neighborhood (away from the street) in every room, letting in plenty of natural light, and scores of restaurants and three city parks are all within walking distance right outside.
Do you have a favorite New York City spot or activity in the latter part of the summer? Feel free to share your comments in the space provided below.
Related apartment rental posts from New York Habitat: