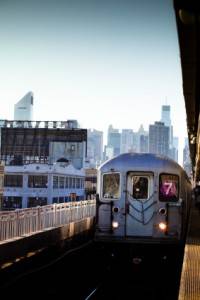 Heading to Astoria
Home to some of the best arthouse cinemas in the nation, New York City has long been known as a paradise for movie lovers – the kind of city where you can always find a restored classic or an esoteric documentary with limited distribution playing on a big screen, even in this era of on-demand and iPhone streaming.
But what newcomers and visitors to New York may not know is that an essential component of Gotham movie culture recently re-opened its doors and rapidly re-established itself as an essential destination for anyone who cares about film. This is the mighty Museum of the Moving Image, located right across the East River in Astoria, Queens and home to some of the most imaginative film programming, and film exhibitions, anywhere in the United States.
Opened in 1981, and the subject of a major renovation and expansion just last year, this three-story space erected on the site of the old Astoria Studio (a production powerhouse during the silent movie era) draws committed cinephiles with impeccably curated screenings like the series See It Big!, which presents classics like Lawrence of Arabia and North By Northwest the way they were meant to be shown, in the Museum's glorious main theater.
Meanwhile, children and other more casual movie fans will be attracted to the Museum's unusually imaginative interactive exhibits, which cover more than100 years of film and TV production. Objects on display include a full line of Star Wars figurines as well as the life-size Linda Blair doll that held viewers spellbound in The Exorcist. Of special note also is the William Fox Gallery, dedicated to the fast-growing field of digital media.
As just one indication of its eclectic programs, this past winter the Museum offered a retrospective of director David Cronenberg's entire career, ranging from his early low-budget horror flicks to his recent collaborations with Viggo Mortensen, side by side with Jim Henson's Fantastic World, an extensive (and hugely popular) exhibition devoted to the beloved creator of The Muppets.
The Museum of the Moving Image is open every day except Monday and is easily reached from midtown Manhattan by subway or bus. Visit the Museum of the Moving Image website for complete hours, directions, and the most up-to-date screening and exhibition schedule.
Are you enticed by the thought of catching a classic old movie in Astoria during your next visit to New York? Regardless of where your itinerary takes you, New York Habitat has furnished rental apartments all over the city, so you're sure to find one that's conveniently located. Following are a few sample listings to give you a sense of what we offer:
- This fully furnished one-bedroom apartment in Midtown West (NY-15194) features modern décor, with tastefully painted accent walls that highlight the space. Both the bedroom and a small sleeping alcove have double sized beds, and the space also includes a fully equipped kitchen and an elevated bar with stools for dining at home. Outside, meanwhile, Times Square begins just two blocks east, and the adjacent blocks are lined with every conceivable dining option (from casual to fine).
- Downtown, a furnished two-bedroom apartment in the East Village (NY-11263) features hardwood floors, an eat-in kitchen, air conditioning, and exposed brick walls throughout the apartment. The apartment's East Village location and proximity means that dining and nightlife options abound literally right outside your door, and several major subway lines are also just a short walk away.
Are you a fan of the Museum of the Moving Image, or are you equally passionate about another New York City museum? Feel free to share your enthusiasms below.
Related apartment rental posts from New York Habitat: