For the better part of the past two decades, the Harry Potter books and films have enriched the lives of millions of readers across the world. They have also introduced foreign readers and moviegoers to the wonderful country that is England. From the gorgeous film locations showcasing some of the country's most magical places to J.K. Rowling's amazingly detailed stories about life (both magical and non-magical) in Britain, Harry Potter has provided a wonderful introduction to the United Kingdom, and to its capital London.
London has played a big part in the Harry Potter universe. It's the fictional home of some of the most astonishing places in each book, such as the Ministry of Magic, Platform 9 ¾ and Diagon Alley. London was also emphatically used in the Harry Potter movies to bring the magical universe of these novels to life. Today, you can still find many of the wondrous Harry Potter locations from the books and the movies in London. These locations aren't just great fun to visit for Harry Potter fans, but also provide visitors with the chance to discover some fantastic lesser-known landmarks in London they wouldn't necessarily see otherwise. We've compiled a list of our top 10 Harry Potter locations in London to inspire you to go on a magical exploration of the city!
1. Platform 9 ¾ at King's Cross Station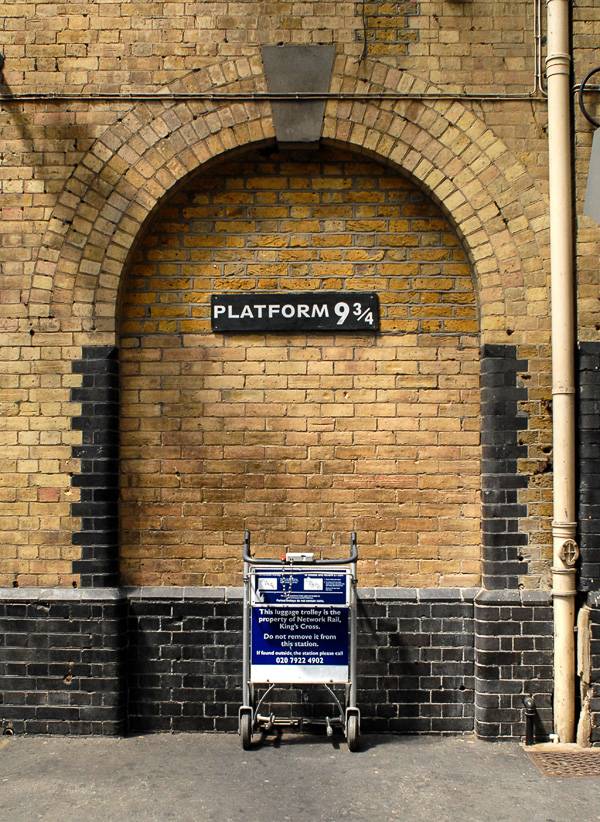 Harry Potter's Platform 9 ¾ at King's Cross Station in London
To start off with the beginning – and ending – of Harry Potter's magical journey, head to King's Cross Station on Euston Road. King's Cross is the station where students board the Hogwarts Express on Platform 9 ¾. Unfortunately, J.K. Rowling was actually thinking of London Euston Station when she was writing the books, so you won't be able to find the secret barrier between platforms 9 and 10. You will, however, find a lovely plaque stating Platform 9 ¾ on a wall with a disappearing luggage cart at King's Cross. Here you'll have the chance to take a picture (complete with a Gryffindor scarf) and to check out the adjacent Harry Potter shop where you can buy merchandise from the books and films. Incidentally, the beautiful Victorian building of next-door neighbor St. Pancras Station was used as the exterior of King's Cross Station in the Harry Potter films.
2. The Reptile House at the London Zoo
Another defining moment for Harry took place at the London Zoo in Regent's Park in Harry Potter and the Philosopher's Stone. While visiting the Reptile House with the Dursleys, Harry found out he could talk to snakes, and accidentally released a huge boa constrictor. The first Harry Potter film also shot this scene in the Reptile House, and you'll find a plaque beside the tank that held the snake in the movie, but in reality is home to a black mamba. Also be sure to explore the other parts of the London Zoo, which is a great attraction for kids. For more family-friendly activities, see Visit London with the Kids. Read the entire story here…»