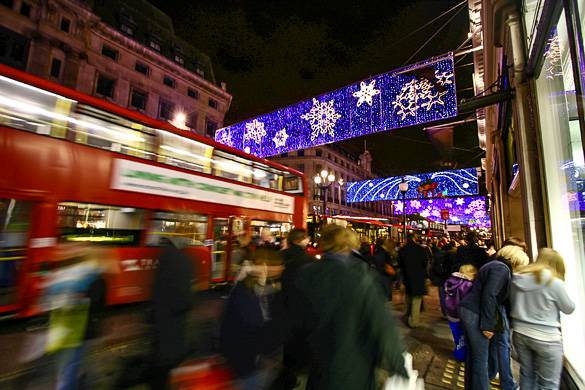 Christmas lights at Oxford Street in London
Twinkling lights, frosty air and mulled wine: London is at its most magical during Holiday Season! From November until January, the city is turned into one big winter wonderland. There's ice-skating at the Tower of London, holiday markets all over town, a huge Christmas tree at Trafalgar Square, and, of course, Christmas shopping on Boxing Day! In this article we'll list some of our favorite activities in London during the holiday season, so you'll be able to make the most of your visit to London in the autumn and winter of 2013.
Holiday Markets and Fairs in London
Some of the best things about holiday season in London are the many amazing Christmas markets in the city. Besides Christmas gifts, these markets also offer culinary delights such as mulled wine and farmhouse food.
If you only have the chance to visit one Christmas market, go to the Winter Wonderland in Hyde Park. This fair not only includes a huge Christmas market full of stalls offering handmade gifts and hot cider, but also has a Christmas circus, an ice sculpture garden, and the biggest outdoor ice-skating rink in the UK. While these last activities are ticketed, you can enter the Winter Wonderland site and Christmas Market for free. Walking around the snowy park, you'll truly be filled with Christmas spirit! Read the entire story here…»