It's without a doubt one of the most famous landmarks in the entire world: the Eiffel Tower. No trip to Paris can be complete without gazing upon this embodiment of Parisian life. And just imagine waking up in Paris, looking out the window and seeing the Eiffel Tower right there in front of you! In this article, we'll show you how to make this fantasy a reality. We've selected six of our favorite apartments in Paris that offer magnificent views of the Eiffel Tower. Discover what it's like to vacation in Paris while staying in an apartment with a view of the Eiffel Tower!
Lovely one-bedroom vacation apartment in Invalides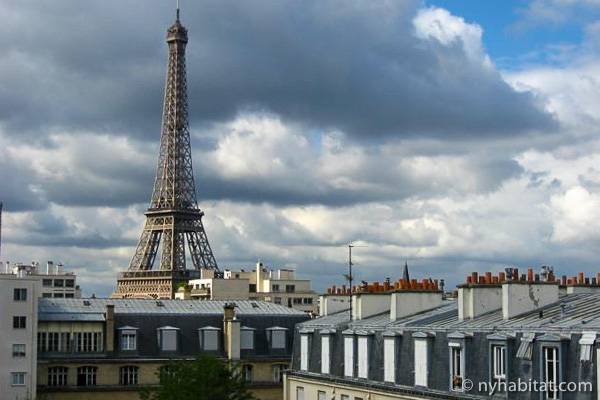 View of the Eiffel Tower from the balcony of this 1-bedroom apartment in Invalides, Paris
The view from this 1-bedroom apartment in Invalides is absolutely stunning. Not only does it offer a splendid view of the Eiffel Tower directly from the French windows in the bedroom, but also from the fully-equipped kitchen! This means the apartment truly offers an amazing and authentic Paris experience. Tenants can wake up in the morning to the splendid view of the Eiffel Tower, prepare breakfast in the kitchen with the same amazing view, and perhaps enjoy a croissant with a coffee in the living room — or outside on the balcony, offering a striking view of typical Parisian rooftops and the Hôtel des Invalides! The apartment sleeps up to two people, and is located right in the center of the beautiful Invalides neighborhood. Just blocks from the apartment you'll find the Seine River, monumental buildings, a bustling street market, and of course the Champ de Mars park with the Eiffel Tower.
For some history and practical information about the tower, check out our Visitor Guide to the Eiffel Tower! Read the entire story here…»