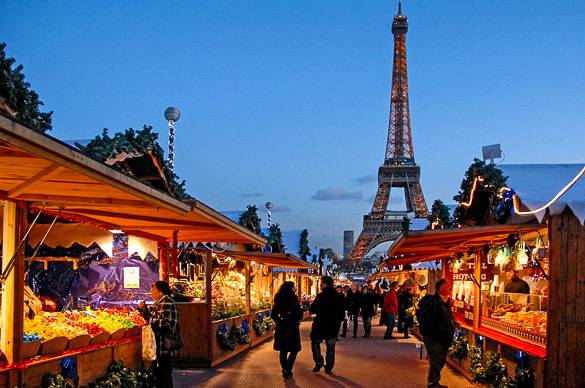 A Christmas market near the Eiffel Tower in Paris during Holiday Season. Photo by Jean-Pierre Dalbéra.
Paris is beautiful at any time of the year, but there's something extra special about visiting the City of Lights during Holiday Season! From mid-November until mid-January, Paris becomes a magical place filled with sparkling lights, outdoor ice-skating rinks and Christmas markets. Furthermore, there's Christmas shopping at the Galeries Lafayette and an Enchanted Christmas at Disneyland Paris!
In this article, we've categorized our favorite holiday season activities, so you can easily create your own travel itinerary for your visit to Paris in the fall or winter of 2013!
Paris Market and Fairs
Paris is known for its many amazing food and antique markets throughout the year. However, come Holiday Season the city steps it up a notch with the Parisian Christmas markets! These amazing outdoor markets feature anything from Christmas gifts to seasonal culinary delights, and can be found all over the city. The following are some of our favorites.
The Champs Elysées Christmas Market is the largest Christmas market in Paris. It runs from the Place de la Concorde all the way up to the Champs Elysées roundabout. From November 15th to January 5th, you can enjoy mulled wine, roasted chestnuts and more on one of the most famous shopping streets in the world. Of course, this is also a great place to get some serious Christmas shopping done. Have a look at Visit the Champs Elysées in Paris for more information about the shops. Read the entire story here…»