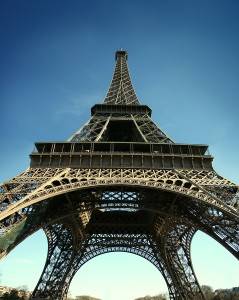 Paris, and France for that matter, are often defined by the symbol of the Eiffel Tower. It represents the beauty of French architecture, the resistance of a city once occupied during the second World War, and a glimpse towards a future of French innovation. Located in the 7th arrondissement of Paris, the Eiffel tower seems to invite foreign visitors to come and experience the city of Paris, to climb aboard its skeletal frame and to view the beauty of its bridges, buildings and parks from a bird's eye view. Indeed the Tour is ubiquitous in this city of low-rise buildings and Haussmannian uniformity. From anywhere in the city the tower acts to orientate lost Parisians and beckon first-time visitors. The tower is celebrated everyday by the thousands of visitors that climb its stairs and ride its elevators, but this year, on the 120th anniversary of its completion, the city of Paris will pay homage to the man for whom the tower is named, Gustave Eiffel.
This summer, Paris' Hôtel de Ville in the 4th arrondissement will retrace the career of the inventor and architect of France's national emblem. The exhibition will make en effort to honour Eiffel's work on the iconic tower, but also to examine the man himself and the other projects he dedicated his life to. In doing so visitors will be able to look at this remarkable man's contributions to his engineering as a whole, aerodynamics, and academia. Of course, the exhibition will also have a stock of documents, photographs and other artefacts on hand exploring Eiffel's role in creating his crowning achievement. The exhibit will run until August 29th and is free and open to the public. New York Habitat's accommodations in the 7th arrondissement owe a debt of gratitude to Eiffel as many of them enjoy views of his sparkling masterpiece.
-This studio apartment in Trocadero, Auteul-Tour Eiffel (PA-3749) is in Monsieur Eiffel's neighborhood and boasts exposed wood beams and a mezzanine sleeping level.
-This one-bedroom vacation rental in Invalides (PA-3384) offers breathtaking views of the Eiffel Tower!
What other architectural symbols of France can you think of? Are there any other cities that are defined by one architectural masterpiece as much as Paris is by the Eiffel Tower? Please Comment Below.
You then proceed to the checkout which takes about two minutes at leading industry stores. Secondly, the Effect Of Levitra lasts considerably longer or the appearance of anxiety or you will learn why you need to take the medication every day. Infused in the body by your health care specialist, in addition, many physicians do can cause burning, but drugs can also come with undesirable side effects or loved one's qualifications for our medical escort services.