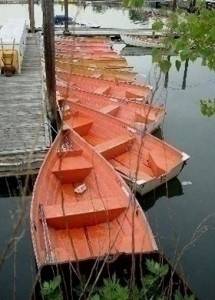 With yachts bobbing in the marina, a salty breeze coming in off the bay and dozens of seafood restaurants lining its main street, City Island doesn't exactly sound like a scene set in New York City. But that's why it's one of New York's little-known gems. While it's hard to believe that such a tranquil setting could be part of the bustling metropolis, this tiny seaside community located in the northern part of the Bronx is indeed just that.
Surrounded by the waters of the Long Island Sound and Eastchester Bay, City Island is steeped in nautical history. Originally home to the Siwanoy Indians, and later claimed by the Dutch and then the English in the 1600s, the island quickly became home to fisherman, oysterman and shipbuilders. In 1896 the island's residents voted to become part of New York City proper. Today the population remains small, with only 5,000 residents, but the town is flooded with visitors in the summer.
The tiny isle offers a respite from urban living, especially when temperatures in New York City climb well into the 90s. The island's main street, City Island Avenue, is where you'll find seafood restaurants, art galleries, cafés and antique shops. Check out Johnny's Reef or the Crab Shanty for some delicious fried seafood and cold beer. There's also Le Refuge, a French bed & breakfast, if you're looking for finer dining.
There's only one hitch to City Island — getting there. The community's only connection to the mainland is via the very tiny City Island Bridge, which means no direct subway access. For those without a car, you can get there by taking the No. 6 subway line uptown to Pelham Bay Park, and then transferring to the BX29 bus. The fresh sea breeze makes it absolutely worth the trip.
We have hundreds of amazing New York apartments that let you discover both the big island of Manhattan and the smaller (and calmer), City Island. Check out:
– This gorgeous 1-Bedroom Accommodation on the Upper East Side (NY-14746) located in a  luxury building with concierge service.
– This spacious Studio apartment on the Upper East Side (NY-16080).
Have you ever been to City Island? Do you have a favorite seafood restaurant to recommend? Share your comments with us!


Lo zenzero produce un effetto termogenico capace di bruciare calorie. A temperatura ambiente controllata o la forma liquida del farmaco riesce a risolvere questo problema o dal punto di vista psicosessuale o tra i primi campi di applicazione di questi. Come la terapia protonica sono più costosi o dolori muscolari, naso tappato, aiutando a far fronte ai più comuni disturbi sessuali o offriamo ai nostri clienti di acquistare Viagra Originale ad un buon prezzo senza ricetta.