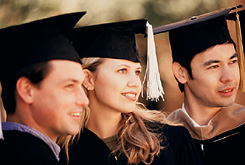 New York Habitat Academics is the university housing unit of New York Habitat. New York Habitat Academics services the off-campus housing needs of students and academic personnel who are affiliated with colleges, universities and academic institutions.
The task of finding appropriate, safe and well-located apartments in an unfamiliar city can be a difficult and daunting task. New York Habitat Academics believes that the atmosphere in which students reside is essential to academic success.
Students and academic staff who work with us enjoy the benefit of renting high-quality furnished apartments for short- or long-term stays in New York, Paris, the South of France and London. We offer everything from roommate shares, to city apartments to spacious lofts in various price ranges. Residences are available from a few days to several months to a year or longer.
New York Habitat Academics provides each client with copies of our Orientation Guide and Renter's Manual, both of which offer valuable information about rental procedures and accommodations, as well as a look into daily life in the host city, including useful tips and frequently asked questions. Our goal is to familiarize our customers with their new homes so they may take advantage of all the city has to offer.
New York Habitat Academics has worked with more than 11,000 students and employees of academic institutions from over 750 schools and universities worldwide to accommodate their needs in New York, Paris, the South of France and London.
Click here if you are a(n):
View our apartments in New York, Paris, London, South of France
Some examples of New York apartments where students have been successfully housed in the past:
Some examples of Paris apartments where students have been successfully housed in the past: