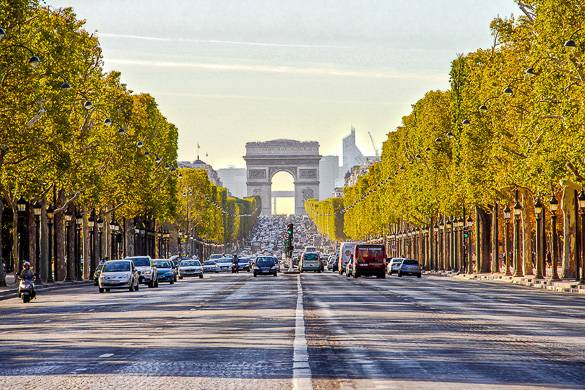 The Champs Elysées in Paris
"La plus belle avenue du monde" or "the most beautiful avenue in the world". This is how the Champs Elysées is known among the French. While not everyone may agree, the Champs Elysées is certainly one of the most beautiful and well-known streets of Paris. Starting at the Place de la Concorde on the right bank of the River Seine in the 8th Arrondissement, the Champs Elysées runs west towards the Place Charles de Gaulle and Arc de Triomphe. It is part of the Axe Historique, a line of landmarks that extends west from the city center of Paris.
Le Notre, the landscape architect of King Louis XV, built the Champs Elysées in 1667. The avenue was named after the Elysian Fields from Greek Mythology. During the Second Empire of Napoleon III the Champs Elysées was turned into a playground for the rich and famous, as luxurious restaurants and theaters lined the avenue. Nowadays, the avenue is still known for its fantastic theaters, cinemas and cafes. Furthermore, it has become one of the most famous shopping streets in the world.
In this article we'll introduce you to the great avenue that is the Champs Elysées. We'll show you some of the best places to shop, where you can find nice cafes and restaurants, and what museums and landmarks (such as the Arc de Triomphe) you can find in the area! Read the entire story here…»