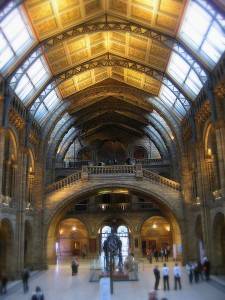 London Museum of Natural History Dinosaur hall
This is great news if you are a kid, dinosaur fan or a T-Rex! Opening April 22 and running through September 4th in London, the Natural History Museum's big exhibit is The Age of Dinosaurs. The exhibit tries to recreate what the world looked like 65 million years ago when the dinosaurs ruled the earth. By making elaborate background and animatronic dinosaurs, you'll feel like you are actually walking among the dinosaurs during their own time.
The Natural History Museum has a long history with dinosaurs. In fact, its first director, paleontologist Richard Owen, coined the term 'dinosaurs.' In the main hall is a 105-foot long diplodocus, known affectionately as 'Dippy,' which debuted in 1905 to huge crowds. The dinosaur hall is the most popular attraction at the museum, drawing young and old to see skeletons of Triceratops, Albertosaurus, Stegosaurus and many other dinosaurs.
The Museum of Natural History, located in the neighborhood of Knightsbridge in London, was finished in 1880 and the building itself is an architectural marvel. With a huge collection, its well worth a visit for a day or two. Read the entire story here…»