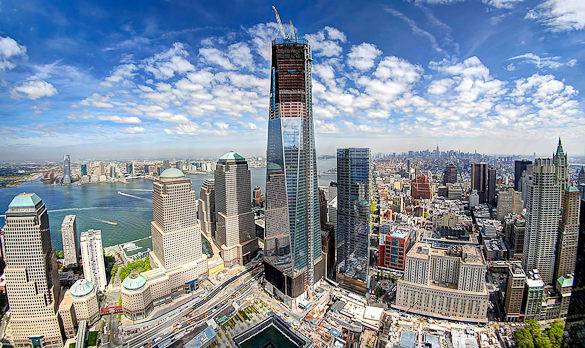 A view of the construction site of the World Trade Center (courtesy of the Port Authority of New York and New Jersey)
Almost eleven years after the September 11 attacks shook the world, the new World Trade Center is well underway. The National 9/11 Memorial is now open to visitors, and the construction of the new towers is taking shape. In fact, on April 30th, One World Trade Center overcame the Empire State Building as the tallest building in New York City!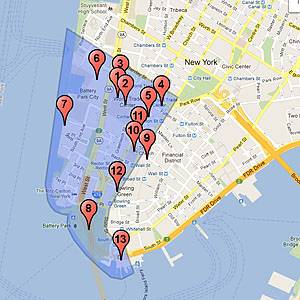 World Trade Center map and its surrounding attractions
It seems Lower Manhattan has finally embraced its new position of being a commemorative site, cultural center, business hotspot, retail destination and residential community. It's clear this area is definitely a must-see in New York! But where to begin?
1. Visit the National 9/11 Memorial
We suggest you start by visiting the WTC site. In 2003, a master plan was approved which incorporated both the desire to turn the site into a lasting memorial and the will to rebuild the towers even stronger and taller than they stood before. The new WTC will consist of five towers and a new transportation hub surrounding the National 9/11 Memorial [see pin 1 on the map] . The Memorial features two massive square pools that are set within the footprints of the Twin Towers, and bear the names of the nearly 3,000 people killed in the 9/11 attacks and the 1993 bombing of the North Tower. A Memorial Museum stands in between the two fountains, but as of May 2012 it is not yet finished. The plaza surrounding the fountains and museum is filled with hundreds of oak trees. One tree, however, is different: a single pear tree stands out from the rest. This Survivor Tree was saved from the original WTC site after the attacks and nursed back to health. Now it stands proudly at the plaza once more, and has even bloomed again. Visitors gather here just to touch the bark of the "miracle tree", which has inspired hope and stands as a vision of rebirth. Read the entire story here…»