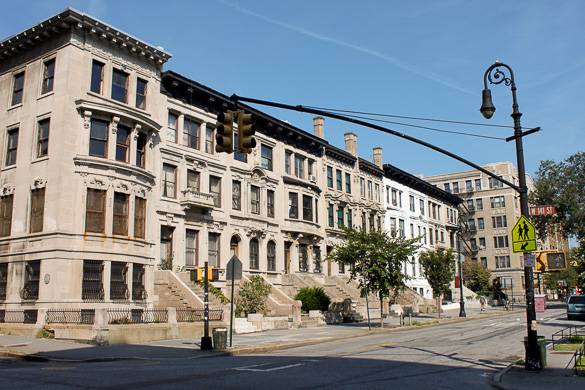 A typical row of houses in Hamilton Heights, Upper Manhattan
Is your heart set on staying in Manhattan during an upcoming visit to New York City? Upper Manhattan is a fantastic and affordable area to consider where you can stay for holidays, studies or work! Most neighborhoods in Upper Manhattan are largely residential, allowing you an extensive selection of homes to choose from.
Exactly what constitutes as Upper Manhattan is often disputed, but generally speaking its borders are 110th Street (or the northern border of Central Park) to the south, the Hudson River to the west, Inwood Hill Park at the northern tip of Manhattan to the north, and the Harlem River to the east. This area is easily accessed by the subway, as there are 4 different subway lines that pass through Upper Manhattan (The 1, the A/B/C/D, the 2/3, and the 4/5/6 lines). Because of this, Upper Manhattan offers easy access to Lower and Midtown Manhattan.
In this article we'll highlight three popular neighborhoods in Upper Manhattan: Morningside Heights, Hamilton Heights and Washington Heights. We chose these three neighborhoods because they're not as well known among tourists as some other uptown neighborhoods such as Harlem, but offer fantastic and affordable accommodation options. Furthermore, these Upper Manhattan neighborhoods are family-friendly, and have plenty to offer when it comes to shopping, restaurants, nightlife and culture. Read the entire story here…»