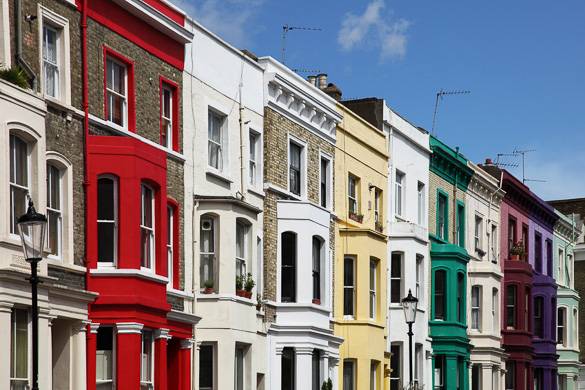 Discover Notting Hill in London
Colorful houses, a strikingly blue door, a bustling snow-topped antique market: these images will forever be linked to London's neighborhood Notting Hill because of the famous 1999 movie bearing the same name. Surprisingly, the neighborhood isn't so different from the picture painted in Notting Hill. Well-known for its Saturday market among both visitors and Londoners, the largely residential neighborhood boasts beautiful secluded gardens and impressive Victorian townhouses. It's one of the most sought after areas to live in London, and a wonderful neighborhood to stay in during a visit to the city!
Welcome to Notting Hill
Notting Hill is located to the northwest of Kensington Gardens. It's roughly bordered by Westway to the north, Inverness Terrace to the east, Notting Hill Gate to the south, and West Cross Route to the west. Ladbroke Grove, Kensington Park Road, Westbourne Grove, and, of course, Portobello Road, are all central streets in the neighborhood. The area is serviced by several London Underground lines, and Notting Hill Gate, Holland Park and Bayswater are its most important stations. While the neighborhood wasn't fashionable until the 1980s, it's now an affluent area with many great shops and restaurants. It's still best known for two things: the annual Notting Hill Carnival and the weekly Portobello Road Market.
In this article, we'll show you the best spots of the neighborhood, and give you a peek into what it's like to live like a local in Notting Hill! Read the entire story here…»