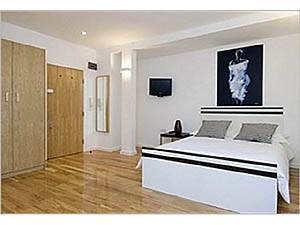 London Apartment Studio in Bayswater (LN-538)
Bayswater is located on the north end of Hyde Park, a plum spot not too far from central London yet on the outskirts enough to retain its own identity as a haven for student and budget travelers. What makes it an attractive place for those trying to save a few quid is its proliferation of low-cost but high-quality ethnic eateries, its £1 an hour Internet cafés and cheap international call services, its bustling streets and vibrant neighborhood feel. New York Habitat has some choice London apartments in the area to help you experience everything the city has to offer without having to wire home for extra cash!
Okay, so Bayswater isn't exactly known for its nightlife. No worries. It's less than a ten-minute walk to Hyde Park, where so many free shows and concerts are being held this summer. Also in the park is this year's Serpentine Pavilion, designed by renowned architect Frank Gehry. Admission to the pavilion's art gallery is free; the Friday night screening of the 1970s' Two-Lane Blacktop requires tickets but is definitely worth seeing for Warren Oates and the retro factor alone, especially in an open-air setting that echoes the film's feel of the open road.
Each Sunday for more than fifty years, the gates near Kensington Gardens on Bayswater Road have acted as the site of an outdoor art sale with hundreds of works lined up for public viewing. Although you can find some pretty good deals on painted scenes of London's landscapes, which make for one-of-a-kind souvenirs, looking is always free and it's a good introduction to the city's many museums, most of which also have no admission fees and are accessible by foot from the front door of your flat rental in Bayswater.
Leave Bayswater Road, with its nice selection of used bookstores and vinyl shops, cross through Hyde Park and you're on High Street Kensington, full of summer clearance shops and chain stores, and only a few blocks from London's museum mile (where you can find the Victoria & Albert Museum and also the Science and Natural History Museums). Or head east on Bayswater Road past the majestic Marble Arch, and before you know it, you'll have joined the throngs on busy Oxford Street.
Aside from its prime location, perhaps the biggest attraction in Bayswater is its abundance of Chinese, Indian, Middle Eastern, Trinidadian, Greek and Eastern European restaurants/storefronts. After all, one can't survive on fish and chips alone, even in London. You can pick a different country's cuisine to sample each evening of the week for less than five pounds—best of all, many of the establishments are open all night, which means that after a hard day of sightseeing, you'll have a snack to bring home to your New York Habitat apartment and enjoy.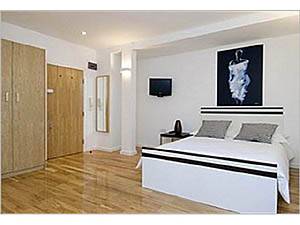 London Accommodation: studio apartment Bayswater (LN-538)
We have a good selection of clean and cozy vacation rentals in Bayswater to choose from:
A sleek, nicely detailed Furnished Studio Apartment in Bayswater, Westminster (LN-538) off Bayswater Road. This studio has two separate sleeping areas—a double bed and a double sofa bed—as well as laundry facilities in the building, blonde wood floors, a heated towel rack in the bathroom and a wooden bar.
A self-contained Studio Vacation Rental in Bayswater, Westminster (LN-471) on Inverness Terrace, just a few yards from Hyde Park. This studio is one of eighty units in a newly refurbished six-story terraced building with a reception area and thoughtful, make-yourself-at-home touches such as a power shower head.
To really make the most of London—and make your money go a long way—take advantage of New York Habitat's Bayswater accommodations. It's the perfect place to stay near the center of the city, yet off the usual tourist-trap map.
Share your stories about your Bayswater stay below… and be sure to include the best late-night and bargain eateries!