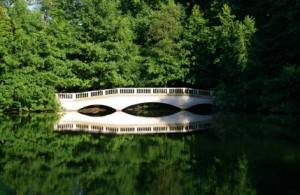 Photo of a bridge in Hail Hampstead's Park
No warm weather trip to London would be complete without a visit to Hampstead Heath
, an amazing 790 acres of ancient parkland and idyllic public space within the capital—only a fifteen-minute Tube ride from the city center. Though often overlooked by tourists, the heath is one of London's hidden rustic highlights, as well as a favorite of the locals. In fact, you can feel like a local by staying in a New York Habitat
vacation rental in Hampstead
this spring.
In addition to vast, sprawling grasslands and hills, Hampstead Heath has a chain of ponds along its perimeter—three of which are open-air pools accessible to visitors who don't mind a cool, refreshing dip. The heath also boasts one of the highest points in London, so bring a camera along with your bathing suit to capture the breathtaking views from Parliament Hill (or nearby Highgate Hill).
Of course, you are still in the city so you'll want to do a bit of proper sightseeing.  For that, there's the stately Kenwood House, an eighteenth-century country estate that boasts works by Dutch masters, including Vermeer and (rare) Rembrandt. You are also close to the Keats House, where the esteemed poet wrote "Ode to a Nightingale" under a tree in the backyard while pining away for his next-door neighbor (who, understandably unable to resist his verse, soon became his fiancée).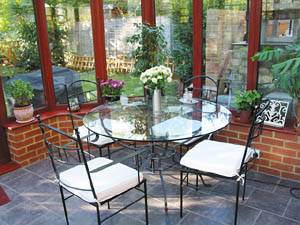 London Accommodation: 2-bedroom Apartment in Hampstead (LN-362) photo
To pay your respects to some other past residents, head to peaceful and picturesque Highgate Cemetery, where Karl Marx, George Eliot and the Dickens family are all buried, or take a short, convenient bus ride to Golders Green Crematorium to see the pastoral resting place of Sigmund Freud, H.G. Wells and Bram Stoker. (The staff welcomes visitors and has a handy map ready upon entry.)
One not-to-be-missed stop near Hampstead Heath (close to Finchley Road station) is the Freud Museum, built in the family home where they took up residence after escaping Austria. The museum houses Freud's huge collection of Greek, Egyptian and Eastern antiques—many of which you may care to analyze for yourself—as well as the showstopper: Freud's famed couch for his patients of psychoanalysis.
Another London institution you won't want to miss in Hampstead is Chaiwalla, a café that puts an Indian twist on traditional afternoon tea. Their clay cups of masala chai tea and South Asian snacks will fortify you on your stroll through Hampstead Heath and put you out less than eight pounds per person.
The best way to experience all that Hampstead has to offer is by staying in a conveniently located New York Habitat flat rental in London, such as the following accommodations that seem to bring the spring indoors:
• A charming and spotless 3-bedroom vacation rental in Hampstead, Camden-Brent (LN-306) on the third floor of a building with porter and lift. Each bedroom has twin beds that can zip together into doubles, and there are three full baths plus a WC—perfect for families. This Finchley Road accommodation is outfitted with a full kitchen, parquet floors and laundry/dryer; it also has easy access to City and West End buses and is a short walk from the O2 Shopping Center, a Sainbury's Superstore, Waitrose grocery, library, and health club with swimming pool, as well as countless nearby restaurants and eateries in the neighborhood.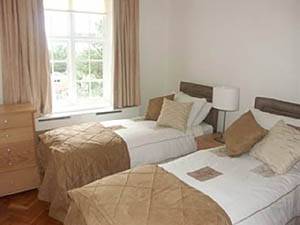 London apartment: 3-bedroom vacation rental in Hampstead LN-306 photo
• An absolutely lovely split-level 2-bedroom vacation accommodation in Hampstead, Camden-Brent (LN-362) on the ground floor of a modern Victorian building. This rental has a balcony and terrace, as well as a conservatory with seating for four and access to a 3-acre community garden for sunny spring days. It also comes with a laundry/dryer, a queen-sized bed in the master bedroom, a double sofa bed (and extra pullout bed) in the second bedroom, and two baths, so there's plenty of space for everyone.
To fall in love with London this spring, stay in a vacation rental in Hampstead—and see the city like a local.
Leave a comment below to let us know if you've ever experienced the outdoor oasis of Hampstead Heath.