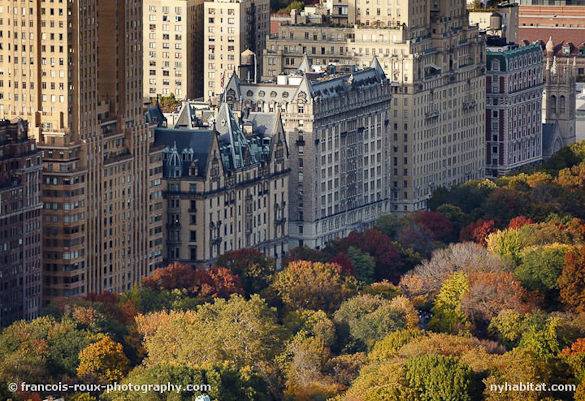 Autumn in New York City's Central Park
On
November 22, 2012
, Thanksgiving will be celebrated across the United States of America. Originally a harvest thanksgiving ceremony, today the celebration is one of the biggest holidays in the year.
In New York City, the holiday is celebrated with family dinners, a Thanksgiving Parade featuring parade floats, a shopping spree on Black Friday and even an entire Thanksgiving weekend! If you want to experience the phenomenon that is Thanksgiving, New York City is definitely the place to be come November.
In this article we'll give a short explanation of the history of Thanksgiving, highlight the holiday activities in New York City and give you some accommodation ideas for this family holiday!

History of Thanksgiving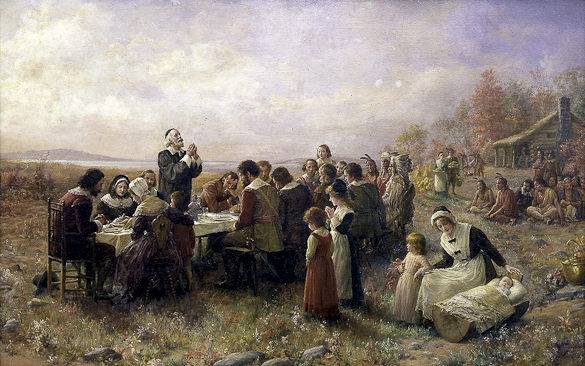 The first Thanksgiving Dinner in the USA
Thanksgiving has a long and complicated history that stretches across continents, but most historians agree that the holiday started as a harvest festival. Throughout history, different cultures across the globe have celebrated harvest season in autumn. Harvest festivals weren't only feasts, but also a time for gratitude and ceremonies. This also linked to religious services, and it is widely believed the tradition of Thanksgiving in the USA was brought over by Pilgrims and Puritans from Europe.
During the Civil War President Abraham Lincoln proclaimed Thanksgiving a national day of thanksgiving and religious praise. It wasn't until 1941, however, that the holiday was set to be celebrated annually every fourth Thursday in November.
On Thanksgiving, families in the USA celebrate the day with a big feast featuring foods of the season, most notably turkey. The Friday following Thanksgiving Day has become known as Black Friday, and traditionally marks the beginning of the Christmas shopping season. It is one of the busiest shopping days of the year in the States.
Celebrate Thanksgiving Activities in New York City
In New York City, Thanksgiving is not only celebrated on the fourth Thursday in November, but also on the evening preceding Thanksgiving, on Friday and through the entire following weekend.
Thanksgiving kicks off on Wednesday November 21st with the inflation of the Thanksgiving Parade's balloons. It's quite a sight to see the gigantic cartoon characters being inflated, and it's usually a big hit with the kids. The balloon inflation starts at 3 pm on the grounds of the American Museum of Natural History, and ends around 10 pm. The later you get there, the more there'll be to see, but it also gets more crowded towards the evening.
On Thanksgiving Eve, New York City's bars and clubs are filled to the brim. Many clubs hold special Thanksgiving parties, so if you're in a dancing mood be sure to check them out. Don't stay out to late though, or you'll miss the biggest event of Thanksgiving Weekend, which takes place on Thursday morning: Macy's Thanksgiving Day Parade.
Macy's Thanksgiving Parade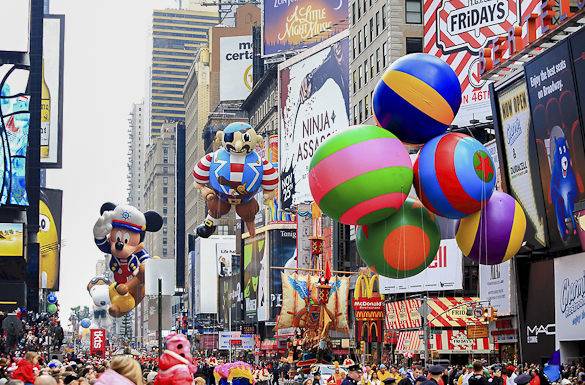 Macy's Thanksgiving Day Parade passes Times Square in Manhattan
The Macy's parade features live music, performances by cast members of Broadway shows, floats and of course the famous Thanksgiving balloons. The gigantic inflatable balloons depict well-known cartoon characters such as Shrek, Kermit the Frog and Garfield, which are always big hits with the kids. Macy's Thanksgiving Parade was first held in 1924, and has grown into a 3-hour event that is broadcast live on CBS.
The parade starts in Manhattan on Thursday, November 22nd, at 9 am at 77th Street & Central Park West, and ends in front of Macy's Herald Square on 34th Street & Broadway around noon. If you want to get a good viewing spot be sure to get to the parade route in time: people start arriving as early as 6 am. Also, the closer you get to Herald Square along the route, the longer the parade will last. Check out the official 2012 Macy's Thanksgiving Parade website for the complete route. If you decide to line up early, be sure to dress for the cold and bring a thermos with tea or hot chocolate to help fight the cold!

Thanksgiving Dinner in Your Own New York City Vacation Rental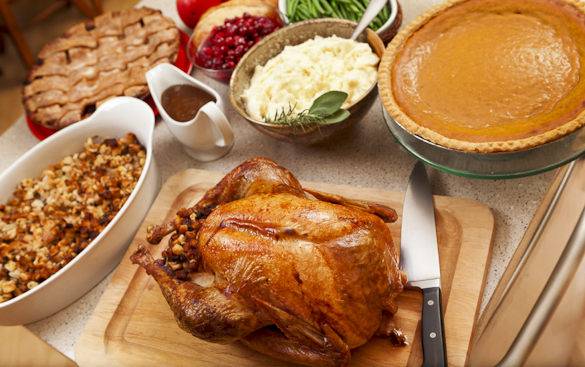 A traditional Thanksgiving dinner with turkey, mashed potatoes, cranberries and more
After the parade, most New Yorkers go home to spend the day with their family. Most of all, Thanksgiving is a family holiday spent indoors with good company and great food.
Of course there are also many restaurants in New York that offer Thanksgiving dinner, but nothing beats preparing your own feast for friends and family at home.
If you're coming to New York City to celebrate Thanksgiving weekend, we have many NYC vacation rental apartments and Bed & Breakfast accommodations throughout the city available to give you that home-away-from-home feeling and also fit the entire family.
Not only do these apartments offer cozy living rooms to celebrate the holiday together and enough bedrooms to accommodate big families, but they also have fully equipped kitchens where you can prepare a real Thanksgiving dinner just as you would at home! Thanksgiving dinner is all about seasonal and native food. Think of a large meal traditionally featuring food native to North America. The main dish of the meal is usually turkey, which is stuffed with herbs, bread and vegetables. Popular side dishes to complement the main course are mashed potatoes, cranberry sauce, yams, green beans, peas, bread rolls and more.
To give you an idea of spending a Thanksgiving weekend in a vacation rental, we've selected one apartment to showcase.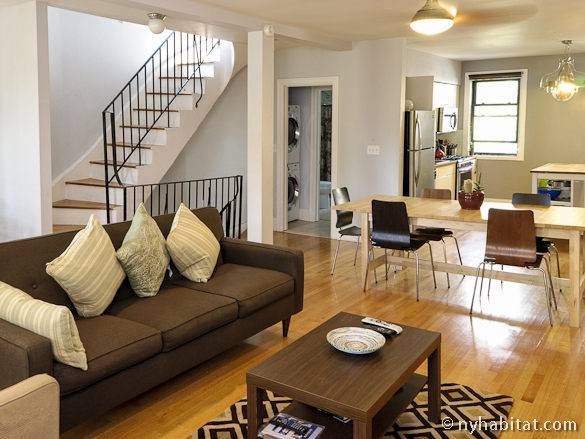 The modern living room and kitchen of the 3-bedroom vacation rental apartment in Brooklyn
The apartment is a
3-bedroom vacation rental in Boerum Hill, Brooklyn
that can sleep up to 7 people. It is located on the top two floors of a Brooklyn townhouse, and features 3 bedrooms and 2 bedrooms. The modern living room stretches across an entire floor and also includes an open kitchen with 6-burner gas stove, oven, dishwasher, microwave, freezer and fridge. You'll have no trouble preparing a turkey in the kitchen! The dining table also sits right beside the kitchen, making it easy for the kids to help out with the cooking. Lastly, there are shops just around the corner, and a major subway station is just a couple of blocks away where you can catch several trains to Manhattan.
If you prefer an apartment with more classic and traditional furnishings that still has an amazing kitchen, check out this 1-bedroom vacation rental in Bedford Stuyvesant.
Black Friday in New York City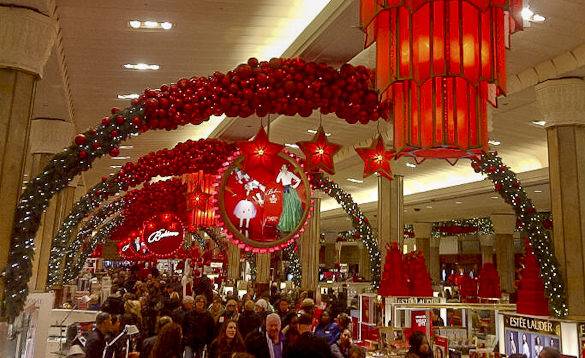 Black Friday marks the beginning of the holiday shopping season in New York City
You'll probably want to make your way back to Manhattan the following day, as Black Friday means discounts in stores across the city! Black Friday marks the beginning of the holiday shopping season, and many places offer heavily discounted fares on this day. Again, it's best to go as early as possible as some shops open as early as 4 am. If you need some help with picking stores, check out this article on
holiday shopping traditions in New York City
. And if things get a little too crowded for your taste, don't panic: you'll have enough time to score deals in stores the rest of the weekend. If you want to avoid the crowds entirely, there're also many online retail shops such as Amazon that offer discounts. This phenomenon is called "Cyber Friday", and you can easily check it out thanks to the quick Wi-Fi connection in your vacation rental apartment. This also gives you the opportunity to relax and stay in for a day to play games or watch TV with the family, and help yourself to some delicious Thanksgiving dinner leftovers!
We hope you enjoyed this little taste of Thanksgiving in New York City! Where will you be celebrating the holidays this year?

Central Park Photograph provided by francois-roux-photography.com