It is difficult to imagine–while shopping in SoHo–that Manhattan is an island of only 22.96 square miles. Millions of commuters come in and out of the city each day, each of them crossing a bridge or tunnel on thier way in. River crossings are an essential part of Manhattan's efficiency, as much as any major city in the world. The bridges that connect Manhattan to the rest of the city via the East River and the state of New Jersey via the Hudson River are themselves worthy tourist destinations. While the bridges of Paris have a subtle aesthetic, New York's river crossings are massive, utilitarian odes to modern architecture. While some lack the aesthetic of their Parisian counterparts, many of New York's bridges are as essential to the city's landscape as the rivers they cross. New York Habitat has plenty of apartments in Uptown Manhattan that place guests steps from New York's most practical works of art.

The George Washington Bridge at night
Uptown Manhattan doesn't have nearly as many recognizable bridges as the beauties Downtown. Downtown, bridges are framed by the towering New York skyline, principle actors in the city's scenic canvas. Uptown the bridges are mostly gritty, industrial structures connecting the South Bronx to Harlem and Washington Heights. Uptown bridges are, for the most part, famous for snarling traffic rather than architectual genius.
The one Uptown Manhattan exception is the hulking George Washington Bridge, spanning across the Hudson river from New York to New Jersey. Originally constructed in 1931, the exposed steel towers and suspension of the bridge act as an informal gateway into New York City. The George is one of the busiest bridges in the world offering 14 lanes accross the Hudson River. The George features pedestrian paths on both sides of the structure and offers some of Manhattan's greatest Westside views. For views of the GWB itself visitors should take a visit to Fort Tryon Park near Washington Heights.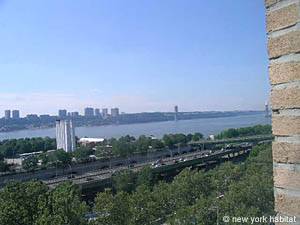 Hudson River with George Washington Bridge views
Consider
Uptown accommodations
to enjoy this less touristy part of the city. Within walking distance of the George Washington Bridge is this
2-bedroom townhouse accommodation in Harlem-Uptown (NY-12256)
. The apartment is near the C train, about 20 minutes from Midtown Manhattan. This modern
1-bedroom rental apartment in Harlem, Uptown (NY-12509)
features exposed brick and an open layout. This
2-bedroom in Upper West Side (NY-2189)
has some amazing views of the Hudson river and the George Washington Bridge in the distance.
Later we will be discussing Lower Manhattan's iconic East River crossings…