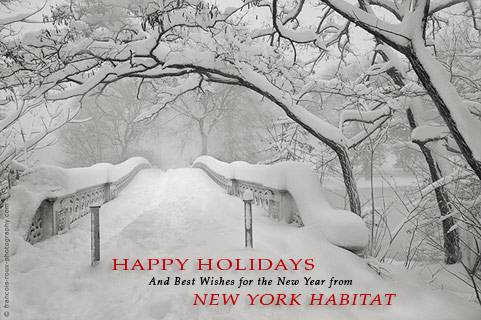 Wishing you and your loved ones a Happy Holiday season and a prosperous New Year from the entire New York Habitat team. We look forward to working with you in 2007 as we continue to grow in our 18th year of business.
Members of the New York Habitat team from around the world would like to express holiday greetings in their local languages:
Swedish
Önskar dig och dina kära en God Jul och ett Gott Nytt År fran oss alla här på New York Habitat ! Vi ser fram emot att igen få möjlighet att arbeta för/med er 2007 da vi nu forsätter att växa in i 18:e året med detta företag !
Italian
Tanti auguri di Buone Feste e Prospero Anno Nuovo a voi e alla vostra famiglia da tutti noi di New York Habitat. Siamo lieti di continuare il nostro rapporto di lavoro nel 2007 e di entrare nel 18simo anno della nostra azienda.
Spanish
Les deseamos a usted y a su familia una muy Feliz Navidad y un próspero Año Nuevo de parte de todo nuestro equipo de New York Habitat. Esperamos trabajar con usted en el 2007 mientras seguimos creciendo en nuestros 18 años de trayectoria.
Dutch
Prettige Feestdagen en een Gelukkig Nieuwjaar toegewenst namens het hele New York Habitat team. Wij verheugen ons om weer samen met u te werken in 2007, ons 18de jaar in deze business.
French
Toute l'équipe de New York Habitat vous souhaite ainsi qu'à vos proches de Joyeuses Fêtes et vous adresse tous ses voeux de prospérité pour la Nouvelle Année. Nous espérons avoir le plaisir de vous servir courant 2007 pour notre 18ème année d'activité.
Czech
Kolektiv firmy New York Habitat p?eje Vám a Vašim bližním Š?astné a Veselé Vánoce, hodn? prosperity v Novém roce. T?šíme se na další spolupráci v roce 2007, ve kterém naše firma oslaví 18 let od svého založení.
Romanian
Întregul nostru colectiv v? dore?te dumneavoastr? ?i familiei S?rb?tori Fericite ?i mult succes în Noul An ! În anul 2007 se implinesc 18 ani de afaceri comerciale ?i noi ne bucur?m s? lucr?m impreuna cu dumneavoastr?. La mul?i ani !!!!
German
Das gesamte New York Habitat Team wünscht Ihnen. Frohe Festtage und ein erfolgreiches Neues Jahr! Wir freuen uns 2007, in unserem 18. Geschäftsjahr, mit Ihnen zusammenzuarbeiten.
Chinese

Photograph provided by francois-roux-photography.com