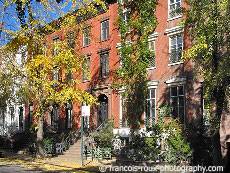 New York in Song
"Greenwich Village"
I wish that for just one time
You could stand inside my shoes
And just for that one moment
I could be you
– Bob Dylan, "Positively Fourth Street"
Before he became one of the most celebrated songwriters in modern history, Bob Dylan was the focal point of the folk rock scene that emerged from Greenwich Village during the 1960's.  "Positively Fourth Street" – the title refers to West 4th Street, which snakes its way across most of the Village – is one of many Dylan songs influenced by his life in Greenwich Village.
Primarily identified as the area below 14th Street, above Houston Street and west of Broadway, Greenwich Village is famous for its bohemian history.  For years, it was home to musicians, artists and actors – both famous and struggling – who infused the area with a spirit of energy and creativity.  Main strips include West 4th Street and Bleecker Street, which are populated with restaurants, cafes and interesting boutique shops specializing in everything from collectible record albums to designer eyeglasses.  There are only a handful of high-rise buildings, because the neighborhood is landmarked and new structures must adhere to strict rules and conform to the area's existing architectural context.
Of course, another Dylan song comes to mind when comparing the area's bohemian history to the Village of today: "The Times They A-Changin'".  While the Village has preserved its flair and charm, it has also become one of the most marketable real estate areas in the world.  "Positively" no starving artists could afford a Greenwich Village apartment on West Fourth Street today,  or basically any where else in the Village.  Gradually over the past twenty years, struggling bohemians have moved onto other areas such as the far East village, the Lower East Side and downtown Brooklyn.  For that reason, these areas have all been called "The New Village" at one time or another.
But the energy and charm of Greenwich Village remain, and can never be copied.  There is positively no substitute.  Check out some of New York Habitat's great vacation rentals in Greenwich Village, and see for yourself.
Hidden Treasure: Chumley's at 86 Bedford Street (between Grove and Barrow Streets).  If you don't know about it, you'd never find it.  There is no sign and the door is completely unmarked, a throwback to its days as a speakeasy during the 1920's.  The place has the rustic charm of an old ale house and the walls are adorned with photographs of famous literary patrons such as John Fitzgerald and Eugene O'Neill.  In addition to its history and atmosphere, it's also a fun place to enjoy a few beers and some great, greasy pub food (burgers, steak and eggs, etc.).
Now we will learn about another part of the New York in Song Series and this one is known as the Thanksgiving Day Parade.
Photographs provided by francois-roux-photography.com