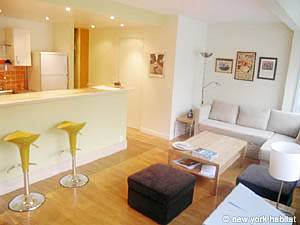 Pablo Picasso. Josephine Baker. Ernest Hemingway. The 15th arrondissement of Paris has long attracted the creative and artistic. To this day the region continues to support the arts through its abundance of museums and theaters. Celebrate a rich history of culture and explore Paris with New York Habitat. This One-Bedroom Apartment near Montparnasse (PA-3048) could be your perfect starting point.
Bright, One-Bedroom Apartment in Montparnasse, Paris:
This modernly designed one-bedroom rental is located on the third floor of a contemporary building. The building (unlike many in Paris) is equipped with an elevator.
Also for your convenience, the owners of the apartment live in the building and have proven to be very helpful to tenants.
The windows stream in sunlight during the day and the modern lighting of the apartment warmly illuminates the space at night.
Located a ten-minute walk from Montparnasse, the rental is also conveniently near Line 13 (Plaisance stop) of the Parisian subway system.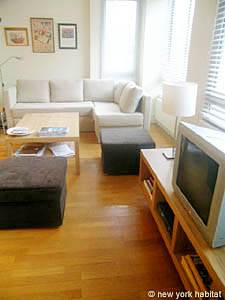 Montparnasse, Paris:
The ancient Greeks believed "Mount Parnassus" to be the home of Apollo, the god of poetry, music, and beauty. In 17th century Paris, students began to gather on a small hill to recite poetry. The students nicknamed the area after the home of Apollo and soon the name morphed into Montparnasse.
Since its artistic inception, Montparnasse has continued to attract the truly creative. Patrons of the world-renowned cafes of Montparnasse have included writers such as Scott Fitzgerald and T.S. Eliot, painters such as Kandinsky and Modigliani, and directors such as Jean-Paul Sartre and Roman Polanski. In addition to cafes, the area boasts many shops, restaurants, and theaters.
Montparnasse is also home to the Tour Montparnasse, which was, at one time, the tallest office building in Europe.
Are you starting to have an idea of how amazing the 15th arrondissement apartment rentals could be?
Why is this one-bedroom rental a Hidden Gem?
The warm lighting combined with the modern colors and designs of the décor are standout features of the apartment. When you add the nearby cultural and artistic hotspot of Montparnasse, this one-bedroom rental is uncovered as a hidden gem.
For more information on Paris, read:
Feel free to post any comments or questions below.