Of all the lively quarters in Paris the one with the most English-literary history and tradition is Montparnasse. Five cafés, all situated on a corner of the Boulevard Montparnasse, retain the feel, charm and look of the Lost Generation of Paris. When Hemingway, Ezra Pound and F. Scott Fitzgerald first moved to Paris they took small flats on the rue Notre-Dame-des-Champs, a few blocks from the mythic cafes. Scott Fitzgerald and his wife Zelda were notorious drinkers and regulars in many Montparnasse cafés as were Gertrude Stein, James Joyce and Hemingway's The Sun Also Rises characters Jake and Robert Cohn. New York Habitat has Montparnasse accommodations that will make it easy to add your name to the list of famous café patrons.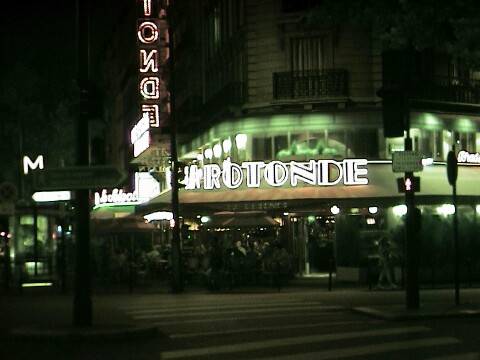 We fittingly end our literary café crawl on the Boulevard Montparnasse, making stops at La Coupole, La Rotonde, Le Dome, Le Select and La Closerie des Lilas. Exiting at Metro Vavin our first cocktail break will be at La Rotonde, of which Hemingway said, "No matter what café in Montparnasse you ask a taxi driver to bring you to from the right bank of the river, they always take you to the Rotonde." The café is a renovated old-world gem, serving excellent meals and reasonably priced glasses of wine and cocktails. Next stops are La Coupole, Le Select and Le Dome. All the cafés have similar menus and are filled with Parisians grabbing after-work drinks. The food is quite good but, of course, the biggest draw is a dining room filled with the ghosts of Josephine Baker, Pablo Picasso, Salvador Dali and Pappa Hemingway.
We've saved La Closerie des Lilas for last, it's the perfect place to end our literary tour. The Lilas was Hemingway's favorite Paris café, he worked here diligently during the 20s, perhaps penning parts of his great novels at one of the tables. And if you ever forget the company you're in the copper plaques etched with the names of famous patrons grace the café walls.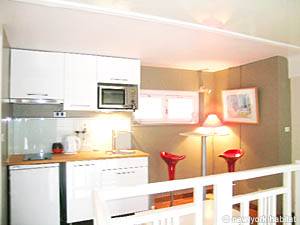 New York Habitat has plenty of apartments in Montparnasse, steps from the famous eateries.
For example, this studio accommodation in Luxembourg, Montparnasse – Porte de Versailles (PA-3663) is on the boulevard Montparnasse.  Also, this 1-bedroom rental accommodation in Montparnasee – Porte de Versailles (PA-1706) lies directly in the shadow of the Montparnasse Tower.
A short walk from Montparnasse the Jardin du Luxembourg, a great place to take a walk, people watch and perhaps start a novel of your own.
Hemingway's Paris memoir A Moveable Feast is an absolute must read before any bookworm's trip to the French Capital.
Don't forget to revist all of our Pub Literary Pub Crawl Posts before venturning off: