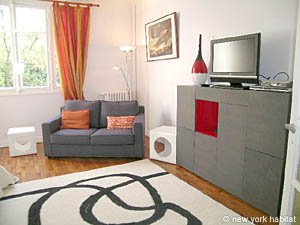 Paris Accommodation: Studio Accommodation in Montmarte Sacre Coeur (PA-3596)
Montmartre is often spoken of as if it is a sprawling village stretching across the northern tip of Paris.
Yes, it has an unmistakable village atmosphere, but sprawling it is not. The hill-top neighborhood is quaint in character and in size. Accommodations on the top of Montmartre's butte are rare and are prime real estate in this city. Nowhere else in Paris are sweeping views as commonplace as here and no place else in Paris has Montmartre's distinctive feel. With New York Habitat's
accommodations in Montmartre
, visitors to Paris' most famous hill can spend their days, nights, weeks and months enjoying the same views and side streets that have, and still do, inspire generations of artists.
This studio accommodation in Montmartre-Sacre Coeur (PA-3596) is on the very top of Montmartre's famous butte. Its neighbors include a Salvador Dali museum, an open-air art market, the bleached-white spires of the Sacre Couer Basilica and the charming (as charming as burial grounds get) St. Vincent's cemetery.
Like the neighborhood it calls home, this studio apartment is full of quirks and surprises. First off, the flat is about as roomy as Paris studios get. The apartment is equipped with an eat-in kitchen, large bathtub, entrance foyer, washing machine and plenty of natural light. The living/bedroom has the right mix of color and a few interesting design pieces, including the white bookshelf and rug. The kitchen and bathroom have modern appliances and detailed tile work.
The colors throughout the flat make for a bright, warm space. While rue Cortot is tucked away from most of Montmartre's traffic, claustrophobics should be forewarned, the quarter's streets are small and packed with camera-toting tourists.
Why is this studio apartment in Montmartre a Hidden Gem?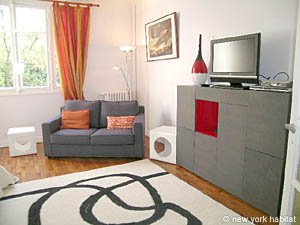 Paris Accommodation: Studio in Montmartre Sacre Coeur (PA-3596)

This studio sits atop Paris in one of her most historic and unique settings. Need we say more? Probably not, but we will anyway. This accommodation's eat-in kitchen, stylish decor and romantic location are perfect for globe-trotting couples. Not only does this apartment literally sit atop the city, but the sweeping Paris views from the kitchen and living room remind you of it each time you gaze out the windows.