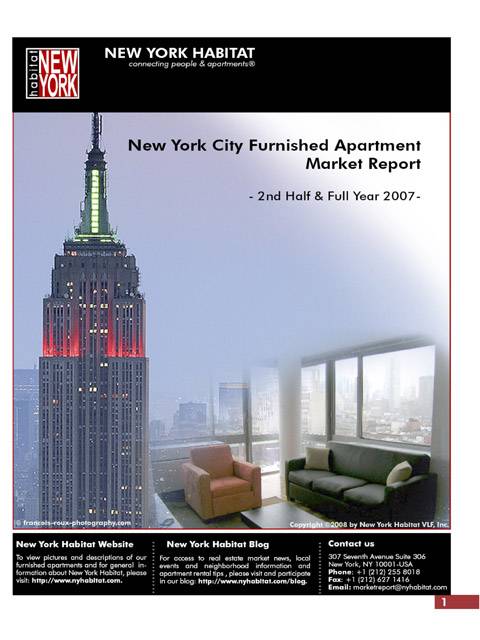 Previously, we learned about New York's Furnished Market Report for the first half of 2007.
New York Habitat continues it market report series with the release of the 2nd half and full year market report for 2007 New York Apartments. Our report covers the following divisions: furnished rentals, vacation rentals and roommate share apartments. We are excited to offer you an opportunity to see more information about our company and look forward to hearing your reaction to the report. To read this report: New York Furnished Apartment Market Report.
In this report we look at data and analysis for the results of the 2nd half of 2007, compare that to the 1st half of 2007 and provide the full year results. Some of the graphs in the report include:
Length of stay averages
Average, median and mode prices by apartment type
What types of apartments were chosen
Neighborhoods selected
And much, much, more
The company's founder Marie-Reine Jézéquel comments on the 2007 market by saying, "2007 has been an interesting year, laws regarding short-term rentals in New York City continue to toughen and our legal team has worked to ensure that all of our new apartments meet the necessary requirements." She goes on to say that, "For 2008 we will continue our push to offer the best alternative accommodation options in New York City."
Visit our website New York Apartment search to view all apartment listings in New York City including Manhattan, Brooklyn and Queens.
To find this report and previous reports visit the New York Furnished Apartment Market Report webpage. We will periodically update this page with the latest reports for the New York City market. Check back in the summer of 2008 for the 1st half 2008 report.
Our market report has been designed with you in mind; owners, renters, real estate and travel professionals should find this Furnished Rental Apartment Market Report to provide interesting and informative information about New York Habitat's niche within the New York City Market. Because we have tried to design this report to benefit the readers we ask that you submit any comments or suggestions either by posting a comment on this blog or e-mailing marketreport@nyhabitat.com
We will continue to build this report and expect to be able to include data on our new unfurnished apartment rental department in the future as that segment continues to grow for the company.
We hope that you enjoy reading this report and New York Habitat's entire team of real estate professionals looks forward to sharing more information about our segment of the market.
Now we will learn about 1st half 2008 results in: New York Furnished Apartment Market Report.