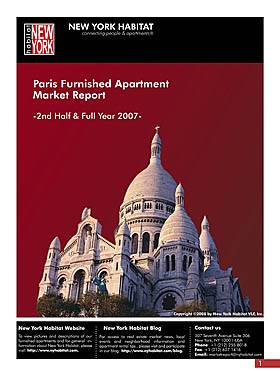 Paris Furnished Apartment Market 2007
The Paris market continues to be one of the most dynamic in the world for both vacation rental and furnished apartment rentals. New York Habitat's experience in Paris renting vacation rentals and furnished rentals has allowed us to compose one of the most detailed market reports in the industry. In the Paris Furnished Apartment Rental Market Report you will find details about the current market conditions as well future trends with regards to the industry.
We have created a website so you can access the various Paris furnished apartment market reports we have compiled. The 2007 Furnished Apartment market report details the current state of the Paris Market and look ahead to 2008 to make some predictions about what to expect.
Major findings for the Paris Apartment Rental service include:
• Supply of apartments has continued to increase due to recently enacted laws which offer incentives to apartment owners to rent out their apartments
• Pricing in the market is stabile because of greater supply and the pressure of the slowing world economy
• Neighborhood selection remains highly concentrated on the central Paris neighborhoods, though other neighborhood have been able to increase the number of rentals because of specific group looking for rentals and better values.
In the Paris Vacation Rental service we found:
• Prices were stabile, with France remaining a top international travel destination keeping demand for Paris rentals at a high level but the world's economy slowing keeping owners from boosting price too much
• People considered studio apartments versus 1 bedroom offerings to keep cost down
• The central neighborhoods of Marais – Les Halles and St. Michel – St Germain – Notre Dame remain the most popular neighborhoods
Our market report has been designed with you in mind; owners, renters, real estate and travel professionals should find this Paris Furnished Rental Apartment Market Report to provide interesting and informative information about New York Habitat's niche within the Paris Market.
As the company continues to expand and grow in the Paris market we expect that we will be able to build onto this market report to build an even more comprehensive Paris Furnished Apartment Market Report for the future.
We hope that you enjoy reading this report and New York Habitat's entire team of real estate professionals from our Paris services looks forward to being your source for apartment rentals and information about the market.
To read the 1st half market report and the full year market report visit the Paris Furnished Apartment Market Report webpage.
Please comment below on the report or e-mail us at marketreport@nyhabitat.com if you have any questions, comments or remarks.
Related apartment rental posts from New York Habitat: