London Events: 1 April – 30 June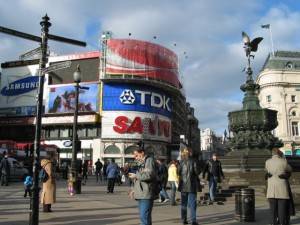 Photo of Piccidilly Circus in London
April 2-5: Easter weekend
Perhaps the best known Christian festival is also a time for chocolate indulgence and combines public holidays to create a great opportunity for a weekend away!
April 11-12: Natural & Organic Products Europe (Olympia)
Natural & Organic Products Europe 2010 to be held at Olympia, Hammersmith, is a trade exhibition geared to anyone involved in the business of selling 'natural, sustainable, organic, and healthy lifestyle products'.
With over 600 exhibitors and more than 7000 trade visitors from all over the world, this trade show brings together the Natural & Organic Products industry for two days of business and networking.
April 12-13: WWE Raw & Smackdown (O2 arena)
WWE brings RAW and SMACKDOWN to the O2 arena, close to the Docklands.  For anyone interested in the world of WWE wrestling this is the opportunity to view the World Revenge Tour in London.
April 14-15: Counter Terror Expo (Olympia)
The only international exhibition of its kind in the UK, Counter Terror Expo 2009 brought together over 4000 exhibitors and visitors from government, military, law enforcement, intelligence, and private sector organisations from the UK and abroad. Counter Terror Expo 2010 brings together industry leaders to provide a comprehensive focus through conferencing, and workshops in addition to the 250 exhibitor stands. Consider staying in a Hammersmith apartment to fully enjoy this unique exhibition.
April 19-21: London Book Fair (Earls Court)
The London Book Fair brings you to the cutting edge of print, audio, TV, film and digital channels whether it involves negotiation, sale or distribution.   Taking place in arguably the world's premier capital for publishing, this is a golden opportunity to immerse yourself in the publishing world.
April 19-23: Alternative Fashion Week (Spitalfields)
Alternative Fashion Week 2010 takes place in London's Spitalfields Market in Hackney and highlights alternative fashion and new talent hallmarking new concepts, bright ideas, and wonderful artists.
April 25th: London Marathon
26.2 gruelling miles around London! The virgin London marathon is a huge celebratory sporting festival that, since its inception in 1981, has raised close to £500 million for charity!
April 27-29: Internet World (Earls Court)
The 18th edition of this digital marketing and online business exhibition showcases leading suppliers, brings together a huge collection of visionary minds, and provides Europe's biggest free education program from ecommerce, digital, marketing, and IT.
April 30-May 3: London Golf and Tennis Show (Excel)
A great day out for golf and tennis enthusiasts, this event at London's Excel centre showcases the latest in fashion and equipment as well as brings the latest gadgets and gizmos that you never knew you needed.
This hugely entertaining and interactive show allows customers the opportunity to try out the latest equipment, watch displays and visit 200 stands.
May 1-9: Grand Designs Live (Excel)
Grand Designs offers visitors guidance and insight into buying, building, and furnishing a home. With a combination of cutting-edge design, eco-friendly alternatives, and latest technology this is the place to be if you are looking for inspiration!
May 18-30: International Wine Fair (Excel)
One of the world's most important wine trade events brings together producers, merchants, agents, wholesalers, sommeliers, restaurateurs, and anyone else with a trade interest in both wine and spirits.
This show is geared for trade only and focuses entirely on the business of wine whether you are a producer, importer, exporter or retailer. This show gives everybody the opportunity to network with other experts and further develop business.
May 25-29: RHS Chelsea Flower Show
Possibly the world's most famous flower show, the RHS Chelsea Flower Show bursts with creativity and imagination for everything floral.
June 4-13: London International Fine Art Fair (Olympia)
The London International Fine Art Fair is an opportunity for over 200 of the world's most distinguished galleries to exhibit an extraordinarily diverse range of pieces varying from Old Master paintings, English formal furniture, Art Deco jewellery, and 20th century design classics.
With over 30,000 art lovers, museum curators, and private buyers congregating from around the world, London Olympia is the place to be for an unrivalled view of world class art and antiques.
June 12: Trooping the Colour
Trooping the Colour is a ceremony performed by regiments of the Commonwealth and the British Army. It has been a tradition of British infantry regiments since the 17th century, and, since the 18th century, has been a mark of the sovereign's birthday. The Queen's Birthday Parade will be held on Saturday 12th June 2010 on Horse Guards Parade when The Colour will be trooped by 1st Battalion Grenadier Guards in the presence of Her Majesty.
Over 1400 officers and men of the Household division as well over two hundred horses from the cavalry will be on parade.  400 musicians and drummers from ten bands play as one to celebrate this annual event.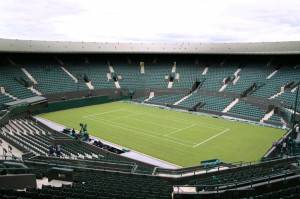 Wimbledon Court 1 picture
June 21-July 4:
Wimbledon

Wimbledon is the oldest tennis tournament in the world dating back to 1877.  Held at the All England Club in the London suburb of Wimbledon it is considered the most prestigious tennis championship in the world and the only still to be played on grass. For two weeks in late June and early July the world's most talented players gather for this knockout competition with the goal of being crowned its champion. In all Wimbledon boasts 19 courts, over 700 matches, more than 30,000 tonnes of strawberries consumed by spectators, and over 30,000 tennis balls are used throughout the tournament.
June 25-27: London Clothes Show (Earls Court)
Hosting a number of prestigious industry awards and exhibiting a fantastic selection of designer, boutique, and high street brands the London Clothes Show at Earls Court offers a magnificent variety of clothing and hair and beauty products to the thousands of visitors.
Share your favorite events in London this Spring in the comments section below