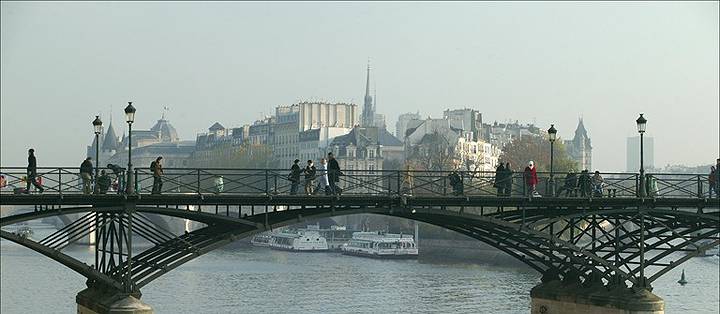 Pont des Arts, Paris photo
When you visit the Louvre on your next trip to Paris, take the time to walk around the neighborhood, from the Palais Royal square to the Pont des Arts. Too many tourists come for the art and ignore the museum's surroundings. It would be a huge mistake to leave without setting foot on the Pont des Arts, a pedestrian bridge that is mentioned in countless popular songs. It takes strollers over the Seine, from the Louvre to the West Bank, with stunning views of Notre Dame and the Pont Neuf. The setting is so beautiful that many Parisians spend their summer evenings there, with picnics, wine and guitars. The Pont des Arts is a destination in itself, not just a handy way of crossing the river.
If you choose to rent one of New York Habitat's apartments in the Louvre area, the Pont des Arts could become your favorite hangout. Here are a few options in the neighborhood:
Two-bedroom apartment rental in Opera-Le Louvre (PA-2961)
One-bedroom apartment rental in Palais-Royal-Le Louvre (PA-3206)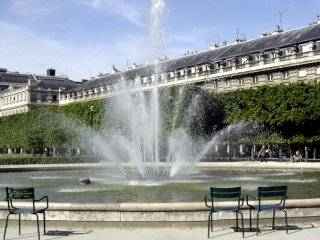 Royal Fountain, Paris
The
Tuileries gardens
, adjacent to the Louvre, are definitely worth a visit, but if you are looking for a less touristy alternative, head to nearby
Jardins du Palais Royal
. These exquisite gardens are surrounded by arcades and by the 17th century residences of the Duke of Orleans, King Louis XIV's brother. It is under the Duke that the gardens became open to Parisians, who still sit on benches overlooking the fountains. The arches that frame the grass are filled with shops and restaurants, including the
18th century Grand Véfour
, which boasts one of the city's most beautiful dining decors.
And if your French is good enough you could catch a Molière play around the corner at the Comédie Française, France's national theater.
Any recommendations for the Louvre-Palais Royal neighborhood?