Sometimes there's nothing more satisfying than combining hedonistic pleasures and environmental correctness, and that's just what you can do if you decide to go to Marseille from March 12-17 and attend the 6th World Water Forum, organized by The World Water Council.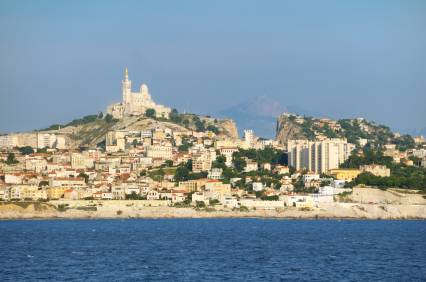 Marseille from the Sea
A major undertaking that is as daunting as necessary, the World Water Forum has been mobilizing creativity, innovation, competence and know-how when it comes to water from 180 countries every three years since 1997. This is where all stakeholders work together on today's local, regional and global issues to come up with a common set of goals for the future.
The Right to Water for all (recognized by 189 states at the UN one year ago) will be the top priority of the 6th World Water Forum. One week of presentations, discussions, debates and round-tables engaging over 800 speakers and up to 25,000 participants should provide plenty of opportunities to brainstorm over critical issues, find potential solutions and share best practices for the vital cause of water.
A viable option to the large-scale World Water Forum is the Alternative World Water Forum, which is organized by several civil society movements and will unfold in Marseille March 14-17. A gathering of experts in the field, elected representatives and members of various associations from over 50 countries, it will focus on activism, solidarity and experiences to promote water management and conservation.
Once you've fulfilled your world citizen's duties, nothing prevents you from enjoying the ever-bustling city of Marseille. No matter what you are interested in and how much time you have, do not miss the stunning basilica of Notre-Dame-de-la-Garde, the picturesque Old Port and the historic main street La Canebière. Among the local culinary delights, a bowl of Bouillabaisse (local fish soup) is a must.
Fully furnished rentals in Marseille are not lacking either, so there is little doubt that you are bound to find one that will meet your needs.
For a cute little nest right downtown, you cannot do better than our studio – Marseille La Canebière – PR 1033. It has all the comfort you need, including a washing machine in the closet, and plenty of light (not to mention a view over the nearby rooftops) thanks to its 6th floor location.
If you need a little bit more space, check out our 1-bedroom – Marseille Corniche Kennedy – PR 441 on Endoume Rock, near the Corniche Kennedy. You may actually never leave it once you've discovered its spacious terrace and fabulous view over the scintillating Mediterranean and the Frioul Islands. If you do decide to go out, downtown Marseille and the small fishing village of Le Vallon des Auffes are both 10 minutes away by foot.
If you're coming with a big group of friends, our 4-Bedroom apartment rental in Marseille, Provence (PR-1190) has everything you could hope for, including a private pool, a fully-equipped and renovated kitchen, a roomy terrace, in-house laundry, and a garage. Situated in a residential area which allows access to golf courses tennis courts, you are just 30 minutes outside of Marseille.
Have you ever been to Marseille, for business or pleasure? If you have, how about sharing your memories with us below?