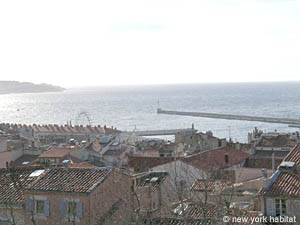 Marseille, France Oceanfront
If you have decided to spend the holidays in the South of France (and who could blame you?) but are unsure of the location, allow us to recommend Marseille and its famous festival of lights. It takes no less than 26,000 bulbs, 13,000 meters of light strings, 95 decoration pieces, 170 light bouquets and 100 trees to bring 300 areas in the city to glorious life from November 25 to January 10. Bonus: If you're there on December 17, you can even join the organized night walk that will take you to the most dazzling spots.
The holiday season is also the opportunity to reconnect with long-time traditions such as the Santon Festival, which has continuously taken place there since 1802. So from November 20 to December 31, 40 santon-makers will exhibit their small hand-painted terra cotta figurines and diligently work on their nativity scenes on the Place General de Gaulle.
Not to be outdone, the Christmas Market will feature more than 50 artists and craftsmen from the Vieux Port to the allées de Meilhan during that same period. There, you'll be able to look for the perfect gifts for your loved ones back home… or some treats for yourself too! From local produce to unique arts and crafts, the only problem you are likely to face is too much of a choice.
Whether during the holiday season or at any other time, France's 2nd largest city, Marseille, offers all types of vacation rentals, and so does New York Habitat.
If you're looking for a modern place with a Mediterranean Sea views (This is Provence, after all), our fully studio accomodation– Marseille – PR 1180 is what you need.
If a small space in the middle of everything is what you're craving for, our fully furnished studio – La Cannebiere – PR 1033 will fit the bill.
For even larger groups, our fully furnished 5-bedroom vacation rental – Marseille – PR 1050 with garden and pool, not to mention a quick access to the sea and the famous Callanques, speaks for itself.
In short, you will not be disappointed regardless of the option you choose. Have you been to Marseille at Christmas time? Share some advice in our comments section below if you have been.