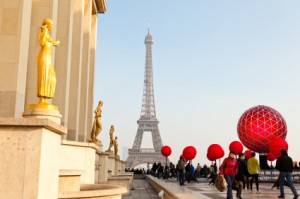 Paris Protest
At first glance, the French holiday of Fête du Travail (Labor Day) would seem to have a lot in common with the American late summer holiday. Both celebrations commemorate the contributions of the nation's workers and both offer the public a day off from that labor. A visit to Paris for Fête du Travail will show you just how different these two celebrations are.
To start, you will see friends exchanging lily-of-the-valley bouquets. This tradition started in 1561, when King Charles IX was offered a bouquet of these beauties on May 1 of that year. He was so taken by the gift that he decided to give the ladies of his court lilies-of-the-valley each year on May 1, and so a tradition was born.
These days, children will get up early on May 1 to go flower picking in the woods to have enough lilies-of-the-valley to pass around to friends, family, and neighbors. In addition, trade unions and other labor organizations will sell these iconic flowers on the street. The government of France allows these once-a-year flower vendors to sell their bouquets without having to pay regular retail tax, which means that the organizations are able to use the flower sales for fundraising.
The history of the rest of the Fête du Travail celebrations is a little more recent. In April of 1919, the eight-hour workday was officially introduced in France after many years of demonstrations. The demonstrators who called for the shortened workday used a red triangle as their symbol—representing eight hours each for work, sleep, and leisure. This symbol was replaced by the dog rose flower, which is why you'll sometimes see these cheerful flowers exchanged by friends instead of the more common lily-of-the-valley.
Since Fête du Travail is a public holiday, most businesses and all government offices will be closed. However, it is still a wonderful day to be a tourist in the City of Light. Trade unions, labor activists and other politically-minded groups will be out in the streets to campaign for their favorite causes. You can see parades and demonstrations throughout the city, and get a sense for how activism works in another country. Pack a picnic lunch and plan to spend the day outdoors, enjoying the passion of the demonstrators. Make sure you tuck a lily-of-the-valley in your lapel!
Plan your trip to Paris in time for the Fête du Travail. New York Habitat has many beautiful vacation rentals available for early May. Start your search for the perfect furnished apartment with one of these:
This 1 Bedroom Duplex Penthouse Vacation Rental – Le Marais – Paris (PA-4088) offers a beautiful mix of modern and traditional. Located in the elegant Marais neighborhood, you'll find this is a sunny and luxurious home-away-from-home.
For a unique and gorgeous place to stay, look no farther than this 2 Bedroom Vacation Rental – Champs Élysées – Paris (PA-4238). With exposed wooden roof beams, antique décor, and decorated throughout with wall tapestries and paintings, you'll fall in love with this apartment. Located near the Champs Élysées, this apartment will put in you the center of things in Paris.
This cozy Studio Vacation Rental – Nation – Paris (PA-4220) offers all the comforts of home. With blond parquet flooring, colorful tiling in the kitchen and bath, and a warm atmosphere, you may never want to leave!
What is your favorite way to celebrate Labor Day?