Have you ever wondered what it would be like if several of New York City's best museums decided to get together and throw one big open house? Well, wonder no longer, because it turns out once a year, some of the city's greatest cultural institutions do just that.
Held every spring, and now in its 26th year, the Museum Mile Festival is an annual bash in which the stretch of Fifth Avenue between 82nd and 110th Streets is closed to traffic and becomes one big block party. Ten museums lining the Avenue offer free admission, and a variety of fun, interactive educational activities – like chalk drawing, face painting, and a live model drawing class – take place out on the street. Live entertainment options also include bands, clowns, and jugglers, so ideally there's something for every age group to enjoy.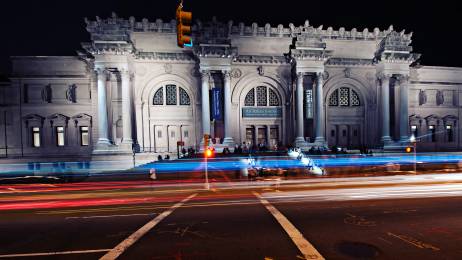 The MET on Museum Mile at Night
Some of the best-known museums in New York City participate in Museum Mile, including El Museo del Barrio, the Jewish Museum, the Metropolitan Museum of Art, the Museum of the City of New York, the Solomon R. Guggenheim Museum, and the Neue Galerie. First-time visitors should be aware that the Met and the Guggenheim tend to be the most crowded, so it's a great opportunity to investigate one of the other museums that you might not know as well. (After all, it's free!)
This year's Museum Mile fest will be held on Tuesday, June 12, 2012, from 6:00 to 9:00 pm. (The festival goes on every year rain or shine, so be prepared for the possibility of showers.) To get there, take the 4 or 5 express train to 86th Street or the local 6 to 86th, 96th and 103rd Streets, and then walk two blocks west to Fifth Avenue. Complete details, including an up-to-date schedule and a list of all the participating institutions, are available at the official Museum Mile website.
Does Museum Mile sound like something you'd enjoy when you visit New York City? New York Habitat has fully furnished rental apartments located nearby on the Upper East Side as well as all over Manhattan. Following are just a few examples of what's available:
– This fully furnished studio apartment (NY-14999) is located at East 80th Street and Park Avenue, on the third floor of a five-story walk-up townhouse. The studio features boldly painted accent walls complemented by classic features like a decorative fireplace and chandelier lighting, and the main room has a double-size bed. Right around the corner, meanwhile, Madison Avenue is lined with fashionable shops and restaurants, including Ralph Lauren and Agnès B. within a block.
– Further downtown, this air-conditioned furnished studio (NY-14884) is part of a prewar five-story walk-up at Third Avenue and 14th Street, just off Union Square. The studio features a queen-size bed, a fully equipped kitchenette, an en-suite bathroom with shower, sink and toilet, TV with basic cable, and Internet access. Seven major subway lines stop two blocks away at Union Square, and the immediate neighborhood abounds in bars, restaurants and clubs of all types, from cheap eats to sophisticated venues.
Have you been to Museum Mile in years past, or do you just have a favorite among all the participating museums? Feel free to share any thoughts in the comments field below.