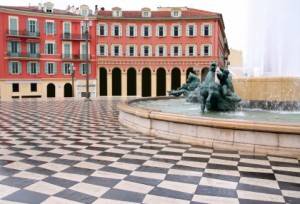 Plaza Massena Square in Nice, France
When the city of Nice appears in the news in February, it is usually and rightfully because of its world-famous carnival. And if you are in the mood for full-blast, colorful fun, it is indeed the place to be. But France's fifth largest agglomeration also has plenty to offer to those in search of something a little bit more subdued and high-brow.
As if being blessed by a breath-taking location in the "Bay of Angels" and a ideal Mediterranean climate between sea and mountains were not enough, Nice also boasts of no fewer than 13 museums covering all sorts of topics and guaranteeing a well-rounded stay for all the visiting culture vultures.
Dedicated to the artist most closely associated to Nice, the Musée Matisse de Nice is situated on the hill of Cimiez, at close proximity to the Hotel Regina, where Matisse lived, as well as a Franciscan monastery and some Gallo-roman ruins. Since 1953, it has allowed its visitors to peruse not only many pieces from the painter's extensive œuvre, but also some of his personal possessions.
Another major museum dedicated to the visuals arts is the highly regarded Musée d'art moderne and d'art contemporain de Nice (Museum of Modern Art and Contemporary Art of Nice). A stunning architectural feat by itself with its marble-faced towers and glass corridors, it regularly exhibits works by some of the twentieth century's most avant-garde artists.
For more classically inclined connoisseurs, the Musée des Beaux-Arts (Museum of the Fine Arts) is a must. Housing one of southern France's best collections of art from the seventeenth to the early twentieth century in a sumptuous nineteenth century townhouse built for a megalomaniac Ukrainian princess, it also offers havens of tranquility in its patio and garden.
On a more unusual note, The Musée Marc Chagall was specifically designed for Chagall's 17 great works of the "Biblical Message". The collection later grew with additional pieces such as oils, gouaches and pastels as well as stained-glass windows, a mosaic and a tapestry donated by the Russian painter himself.
In order to enjoy those masterpieces and more first-hand, nothing can beat having one's own pied-à-terre in Nice right in the city courtesy of New York Habitat.
For the quintessential Nice experience, we have a spacious, fully furnished 1-bedroom apartment in  Nice Old Town – PR 798 in the popular Old Town.
For a bigger party, we have a fully furnished 2-bedroom vacation rental – Nice Center – PR 802 right downtown, at walking distance to everything.
If you are a sailor at heart, our fully furnished studio – Nice Vieux Port – PR 227 near the picturesque old harbor is what you need.
Wherever you decide to reside, Nice will prove to be the nicest place on the French Riviera for culture and fun. If you've already been there, will you let us know what you thought?