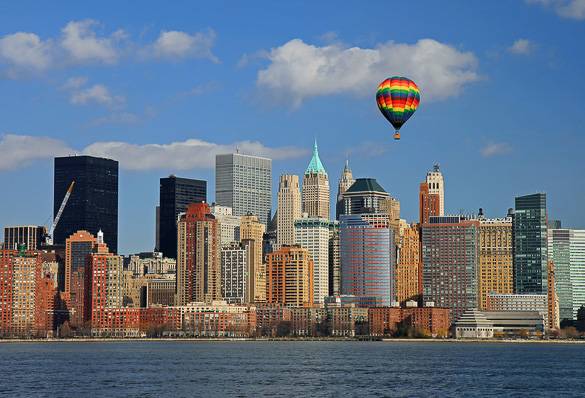 Visit New York City for a Family Holiday
New York City is known as the city that never sleeps, and it's not difficult to see why: there's always something to do or see on the island of Manhattan. This also makes New York a fantastic destination for a family holiday. There's a lot of entertainment in the city that's tailor-made for kids, and the city also offers many great activities for the whole family. For instance, you can have picnics in Central Park, see dinosaurs in the American Museum of Natural History, or go see a Broadway musical!
In this article we'll show you what a family holiday in NYC can look like: from accommodations to activities and things to see, a New York City holiday will be one to remember!
New York Museums the Kids will Love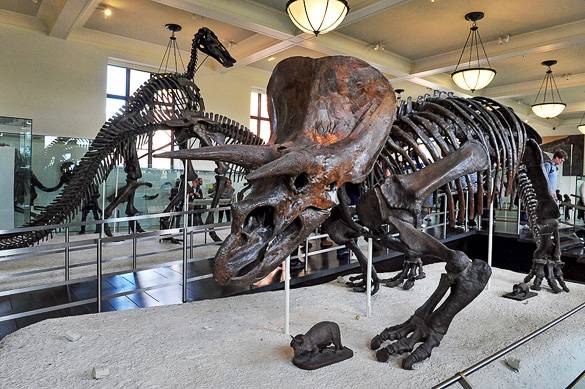 Dinosaurs at the American Museum of Natural History in New York City
There are many museums in New York City geared towards a younger audience. The following are some of our favorites.
Whether your kids have seen Night at the Museum or not, a trip to the American Museum of Natural History is always a real treat. The museum is renowned for its exhibition halls featuring dinosaur skeletons, animal dioramas, meteorites, gems and even model planets (Hayden Planetarium). The museum is perfect to visit on a rainy afternoon, as the kids can easily spend hours discovering the different exhibitions. Something also worth mentioning is that the admission price of the museum is only suggested, meaning you can choose for yourself how much you want to pay.
A great museum for younger kids is the Brooklyn's Childrens Museum. This museum was designed specifically for children, and was one of the first museums in the world to do so. Kids can play, discover and learn all at the same time in this museum, which covers everything from the eco system to cooking!
The Intrepid Sea, Air and Space Museum is great for younger and older kids alike- especially if they're into planes, boats or spaceships. The museum showcases the large WWII aircraft carrier ship Intrepid, a submarine, several aircrafts and even a space shuttle! The museum also features an interactive hall called the Exploreum that teaches kids all about life on an aircraft carrier.
Other great museums for the whole family include the Children's Museum of Manhattan, the New York City Fire Museum, the free Sony Wonder Technology Lab and the New York Hall of Science.
New York Parks & Playgrounds for the Kids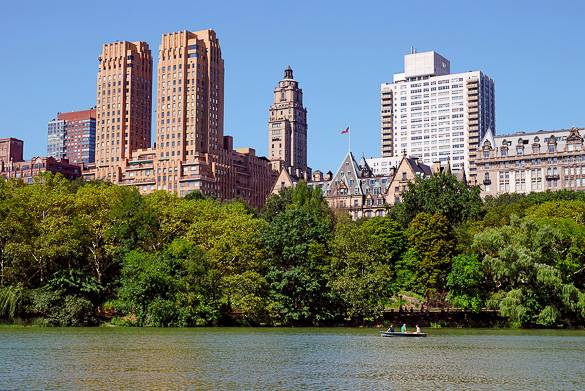 The Lake in New York City's Central Park
When the sun is out and the weather is good, nothing beats a day in the park to escape the hustle and bustle of the city. New York City has many amazing kid-friendly parks.
New York City's most famous park has enough to see and do to keep the kids occupied for days. Central Park offers fenced-in playgrounds, baseball fields, a zoo and even a large swimming pool open in summertime. Whether you rent a rowboat at The Lake or catch a show at the Marionette Theater, it's lovely to just walk around Central Park with the family and see where you end up. You can also never go wrong with preparing a picnic basket at home and bringing a Frisbee along to the park. Sheep Meadow and the Great Lawn are both great spots for a family picnic.
Hudson River Park is a great modern park that stretches all along the western side of Manhattan next to the Hudson River. Some of the park's features include several playgrounds, some even with water features, and a couple of swimming pools. Between 17th and 23rd street you'll find the Chelsea Piers Sports & Entertainment Complex, which offers youth programs in sports ranging from dance to rock climbing.
In Brooklyn, Prospect Park is a beautiful large park with many different attractions. There's the Prospect Park Zoo, seven playgrounds and the gorgeous Brooklyn Botanic Garden. There are also several baseball fields, and in the summer many events are held in the park.
Other great New York City parks include the Meadows Corona Park with the Queens Wildlife Center; Bronx Park, which includes the Bronx Zoo; and Brooklyn Bridge Park, which has a great water playground.
New York Attractions for the Whole Famiy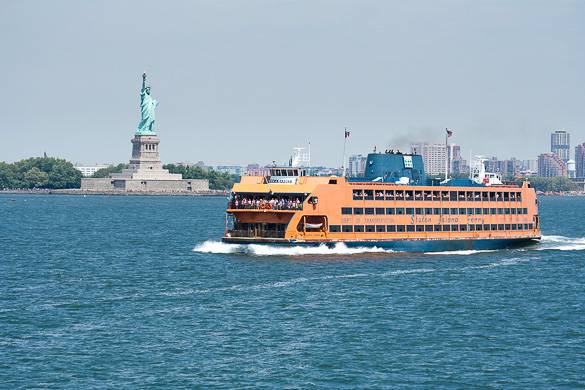 The Staten Island Ferry and Statue of Liberty in New York City
If you're on holiday in New York City, of course you'll want to be doing some sightseeing. The following are New York attractions that are great for the whole family.
It's absolutely magical to see Manhattan from above. The Empire State Building and Top of the Rock at Rockefeller Center are both skyscrapers that offer amazing views from their viewing platforms. Choosing between the two is not easy: The Empire State Building is of course one of the best-known landmarks in NYC, which makes it great to go climb this historic skyscraper. However, you can't see the Empire State Building from the skyscraper itself, so Top of the Rock is also very attractive as it offers amazing views of the Empire State Building, and also of Central Park.
Times Square is dazzling for adults and children alike. The kids will also enjoy the huge Toys R Us store as well as the flagship M&M's Store. When you're there, pay a visit to the TKTS Booth underneath the red stairs to get discounted tickets for a Broadway musical! To find out more about the famous landmark, check out Discover New York City's Times Square.
Most kids love taking the ferry, and there are several to choose from in Manhattan. If you want to see the Statue of Liberty up close, you can take a ferry to Liberty Island. Ellis Island is included in the tickets, so you'll also get to see the impressive Immigration Museum where you can look up your ancestors! For a free alternative take the Staten Island Ferry, which passes right by the Statue of Liberty, creating a good photo op.
Stay in a NYC Vacation Rental Apartment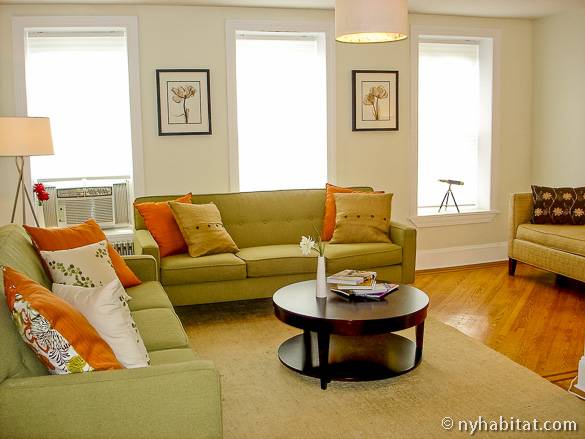 The living room of a New York City vacation rental apartment
When you're looking for accommodation for your holiday, a
NYC vacation rental apartment
or a
NYC Bed & Breakfast
are both great affordable options. Unlike a hotel, you're not paying for the number of rooms or people. Instead, you rent one furnished apartment for the whole family, often including a living room, fully-equipped kitchen, bathroom and multiple bedrooms! Your family gets to stay together in one apartment, and the kids have enough space to play, as well as TV and internet access to keep them entertained. The fact that you have your own kitchen to prepare exactly the food your kids like makes it even more affordable, as you won't have to spend money on expensive restaurants. Have a look at our
full inventory of apartments in New York City
to pick an apartment in a neighborhood you like!
New York Events for the Whole Family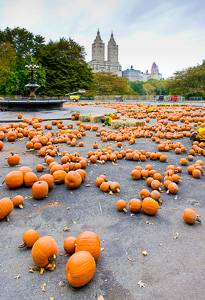 Pumpkins in Central Park for Halloween
Like we said at the start of the article, there's always something to do in New York City. The following are big annual events that are suitable for the whole family.
In springtime, there are two fun parades held in the city. On March 17 the St. Patrick's Day Parade is held for St. Patrick's Day and on Easter Sunday the Easter Bonnet Parade is held on 5th Avenue in Manhattan. On this day, people dress up with the funniest hats and bonnets and show them off to the public. An event that's a bit more active is the annual Pillow Fight Day, which is usually organized somewhere in April. This is a fun activity for the older kids!
In summer, many concerts and festivals are held all over the city. This is also a great time to visit one of New York City's many beaches. For some ideas on where to go, check our Top 5 Beaches in and around New York City. The annual 4th of July fireworks are always a delight to see for children and adults alike.
In the fall, there're even more parades held in the city. The Halloween Parade is great fun for the older kids to see, while Macy's Thanksgiving Parade with its balloon floats is great for the younger ones. On Halloween there's also a great event in Central Park called the Halloween Pumpkin Sail, where kids can bring their own jack-o'-lantern to float on the Harlem Meer.
Lastly, in wintertime when New York City is covered in snow, you can go holiday shopping at the holiday market in Bryant Park, or at Macy's to marvel at the window display. There are also several spots in the city where you can take the kids to go ice-skating, for instance in front of Rockefeller Center beneath the Christmas tree. The wait to see the ball drop in Times Square on New Year's Eve might be a little too long for the kids, but it's also great fun to watch it on TV right from the living room of your vacation rental apartment!
For more tips about activities for the whole family in New York City, check out our video of things to do with kids in New York.
We hope you've enjoyed this article about ideas for a family holiday in New York City. What's your favorite kid-friendly activity to do in the city?