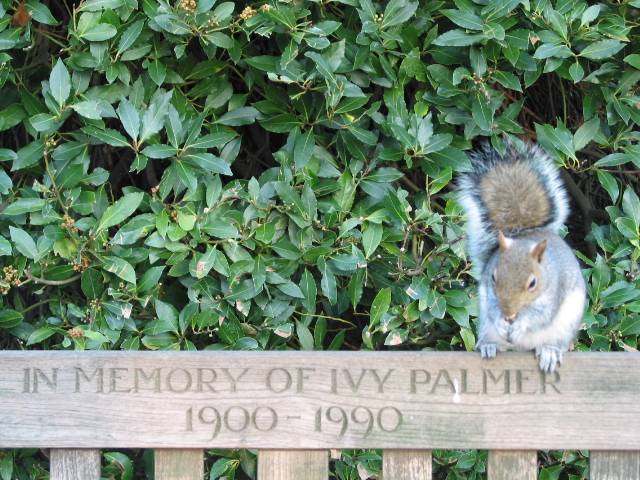 Squirrel in Hyde Park, London photo
With the weather warming up again, London parks prove to be absolutely irresistible. Of course, in the capital city, there is no shortage of green spaces in which to greet the springtime sun. The question is how to navigate them all. Over the next few weeks, in celebration of spring, we'll be bringing you some of the best places in the city to get outdoors—and, with our New York Habitat vacation rentals in London, some of the best places to come back home to!
One of the most stunning, centrally located places in London is Hyde Park, and visitors can spend a full day without ever leaving its leafy confines. Heading in from Kensington Road, on the southwest, there's Kensington Palace, which was once home to Princess Diana. Not far from there is the Orangery, serving afternoon tea in its sunroom. If you continue north through the park to Bayswater Road, you'll find a free fresh air art fair on Sundays (all works are for sale).
To the southeast, Hyde Park boasts a bike and walking path surrounded by all sorts of colorful flora, low-hanging trees that seem to form an overhead bridge and some of the friendliest (and most domesticated) squirrels in town. There are plenty of benches from which to watch their antics as well as those of the tourists who seem trained to feed and photograph them. If you follow this path to the east, it will lead you to the small but well curated Serpentine Gallery of arts and the snaking Serpentine waterway. Stop at the waterside Lido café or The Dell restaurant for a glass of wine or a light snack to fortify yourself for the debates and didacticism of Speakers' Corner, to the northeast, or for an afternoon of museum hopping on nearby Cromwell Road.
To enjoy all of the action and every drop of sunshine in Hyde Park, stay in a nearby, conveniently located New York Habitat accommodation in the surrounding neighborhood,  such as a flat in Knightsbridge or a a vacation rental in Bayswater. Here are some example to get you started:
• A uniquely laid out, spectacularly designed 1-bedroom duplex in North Kensington, Kensington-Chelsea (LN-485) on the ground and first floors of a converted house in a nice, residential neighborhood. This vacation rental has a garden and terrace, large picture window for plenty of sunlight, a café-style dining area, decorative gas fireplace, washer/dryer, queen-sized bed and an open bathroom with tub just off the bedroom, in addition to a downstairs shower. It's an easy walk to Portobello Road and Notting Hill. Past clients have raved: "We had a great time in London and the owner of the apartment was very helpful."
• A cheerfully decorated studio in Notting Hill, Kensington-Chelsea (LN-152) with colorful furnishings and a large, dramatic picture window for springtime views. This vacation rental on the fifth floor of a portered building with elevator and full-time doorman is only a two-minute walk to Notting Hill Gate station. The studio has plenty of space, with a double bed, a double sofa bed, a washer/dryer, a dining area for four and two bathrooms: one with a tub and the other with a shower. There are also French doors in the living room that open onto a small balcony with seating—a perfect place for morning coffee in the sun.
This spring, enjoy London outdoors—and let the sun shine in your New York Habitat vacation rental!
Have a favorite spot in Hyde Park? Tell us about it with a comment below.