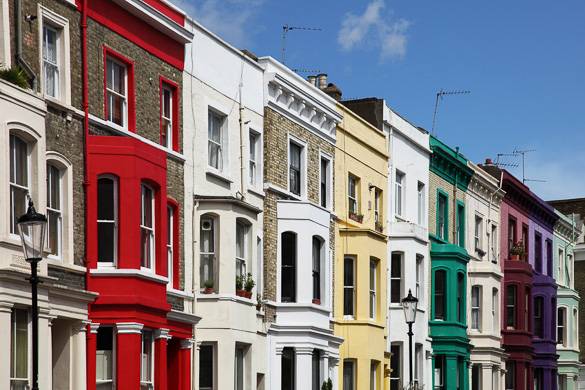 Discover Notting Hill in London
Colorful houses, a strikingly blue door, a bustling snow-topped antique market: these images will forever be linked to London's neighborhood Notting Hill because of the famous 1999 movie bearing the same name. Surprisingly, the neighborhood isn't so different from the picture painted in Notting Hill. Well-known for its Saturday market among both visitors and Londoners, the largely residential neighborhood boasts beautiful secluded gardens and impressive Victorian townhouses. It's one of the most sought after areas to live in London, and a wonderful neighborhood to stay in during a visit to the city!
Welcome to Notting Hill
Notting Hill is located to the northwest of Kensington Gardens. It's roughly bordered by Westway to the north, Inverness Terrace to the east, Notting Hill Gate to the south, and West Cross Route to the west. Ladbroke Grove, Kensington Park Road, Westbourne Grove, and, of course, Portobello Road, are all central streets in the neighborhood. The area is serviced by several London Underground lines, and Notting Hill Gate, Holland Park and Bayswater are its most important stations. While the neighborhood wasn't fashionable until the 1980s, it's now an affluent area with many great shops and restaurants. It's still best known for two things: the annual Notting Hill Carnival and the weekly Portobello Road Market.
In this article, we'll show you the best spots of the neighborhood, and give you a peek into what it's like to live like a local in Notting Hill!
Go Shopping in Notting Hill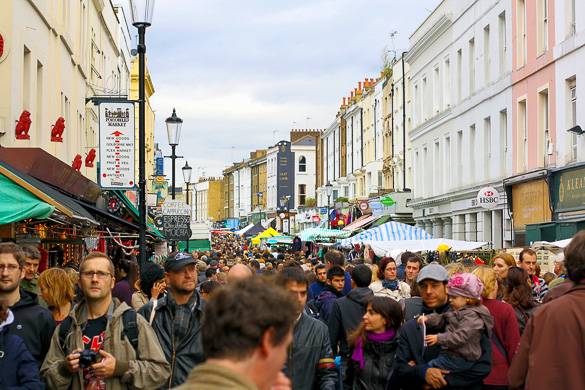 The famous Portobello Road Market in Notting Hill
Besides the neighborhood's most famous open market, Portobello Road, there are several other great shopping streets in the area, such as Notting Hill Gate and Bayswater Road. From bookstores and antiques to fashionable designer shops, this London neighborhood has lots to offer!
To start with the most famous of them all: the Portobello Road Market is an absolute must-see when you visit Notting Hill. Saturday is the busiest day of the market, and this is when you'll find antique stalls all over Portobello Road. The market is almost one kilometer (0.6 miles) long, so you'll be sure to find a unique gift or souvenir!
Although the famous Notting Hill Travel Bookshop has unfortunately now closed, there are two other great bookstores in the area. Books for Cooks on Blenheim Crescent is an amazing bookstore/café/cooking workshop with an enormous selection of cookbooks. If your heart is set on visiting a travel bookstore, head to Daunt Books on Holland Park Avenue. This lovely little bookshop has a great selection of travel books.
If you prefer music to books, head to Rough Trade on Talbot Road. This wonderful record store has a great selection of independent music. Honest Jon's on Portobello Road is another great record store, specializing in Jazz, Soul and Reggae.
When it comes to fashion, Notting Hill has great independent boutiques such as Aimé (French designers) on Ledbury Road and The Merchant (high-end brands) on Westbourne Grove.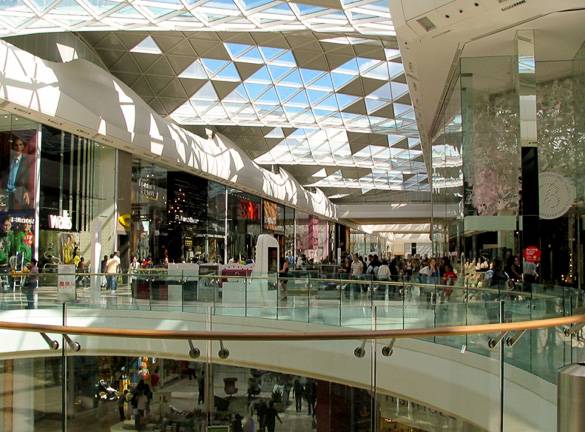 The modern Westfield Shopping Centre near Notting Hill, London
If you're looking for fashion chain stores, head to the Westfield Shopping Centre on Ariel Way just west of West Cross Route. This spacious mall boasts fashion stores such as Burberry, Boots, Gucci and Miu Miu, as well as an Apple Store and a Disney Store.
To get a sense of what it's like to walk the streets of Notting Hill and the surrounding area, have a look at our Video Tour of Kensington & Chelsea!
Notting Hill Cafes, Restaurants & Pubs 
From cozy coffee shops to a Michelin-starred restaurant, Notting Hill is full of surprises! The following are some of our favorite culinary establishments in the area.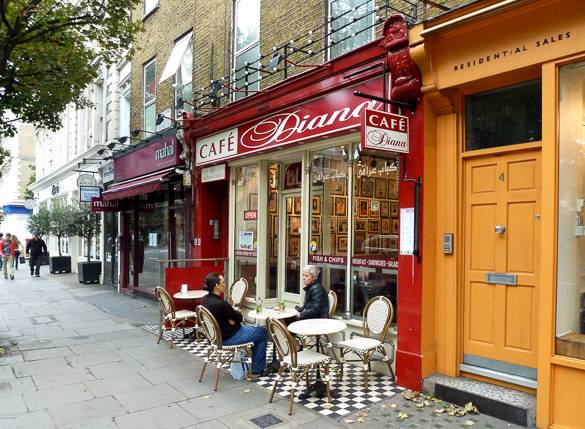 Café Diana is one of the many great cafes in Notting Hill
Coffee Plant is a cozy café on Portobello Road with a great selection of organic coffee and tea. Tea's Me on Ladbroke Grove has a nice selection of teas and serves great breakfast. Café Diana on Wellington Terrace is another great place for breakfast. Caffe Respiro on Kensington Park Road is a nice Italian café with some delectable lunch options. Ottolenghi on Ledbury Road is a lovely bistro/bakery with amazing cakes and pastries. Talkhouse Coffee is a new coffee shop on Portobello Road and serves some great espresso.
The Ledbury is the pride of Notting Hill's culinary scene. The restaurant on Ledbury Road offers impeccably prepared Modern European cuisine, and was awarded with two Michelin stars. Do be aware that you have to reserve a table at least a month in advance. For a more affordable alternative on the same street, head to Walmer Castle: an English pub that serves delicious Thai food. Osteria Basilico is a fantastic Italian restaurant located on Kensington Park Road. Do make reservations well in advance! If you're looking for some of the best fish & chips in town, head to Geales on Farmer Street.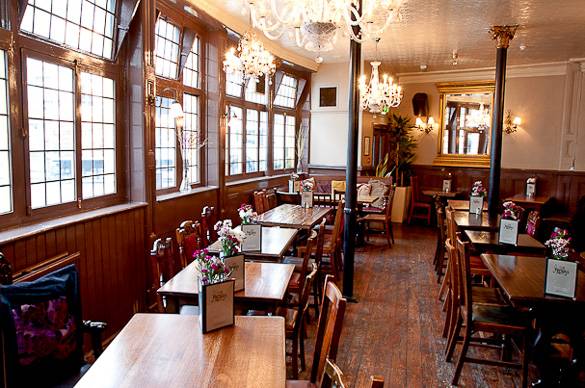 The rustic Sun in Spendour pub in Notting Hill
Like many of London's popular neighborhoods, Notting Hill isn't short on pubs. Sun in Splendour on Portobello Road is a lovely traditional pub with a nice quaint garden out back. Further down the street, Portobello Star is a popular bar that serves some potent cocktails. The Hillgate on Hillgate Street is another nice pub with a real fireplace to enjoy when it gets cold. Ladbroke Arms on Ladbroke Road is a fantastic pub that serves great food, and the menu changes daily. Lastly, The Castle on Holland Park Avenue is another cozy pub with a wonderful selection of draft beers.
Live Like a Local in Notting Hill 
When you're coming to London on holiday, Notting Hill is a fantastic community from which area to start your London adventure. By staying in a vacation rental apartment in Notting Hill you'll be close to the famous market, as well as many wonderful shops, pubs and restaurants. Because of the many London Underground stations in the area you also have great access to other neighborhoods in the city!
If you're coming to London for a longer period, and really want to experience what it's like to live in London like a local, have a look at our furnished apartments in Notting Hill. Many of these are located in those beautiful Victorian townhouses, so your stay in the city will be in style!
Lastly, also have a look at our corporate housing and relocation services. Our agents can assist you in finding the perfect apartment, whether that is in Notting Hill or anywhere else in London!
What to See & Do in Notting Hill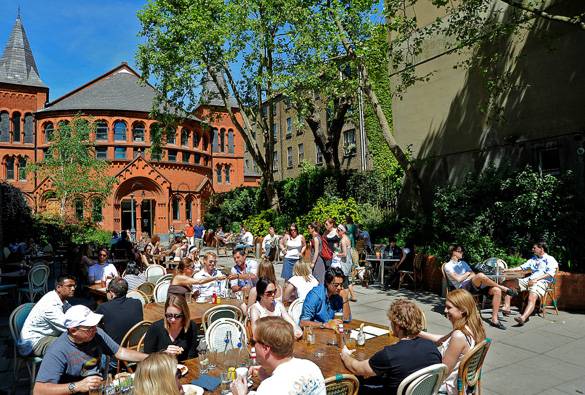 The cultural arts center The Tabernacle in Notting Hill
Notting Hill is a wonderful neighborhood to explore. When you've seen the movie, you'll definitely want to check out
280 Westbourne Park Road
. Here you'll encounter the famous blue door behind which Hugh Grant and Julia Roberts' characters hid from the paparazzi. The interior is completely different from the set used in the film, but the house was actually the home of the movie's screenwriter Richard Curtis.
Another famous house in the area is the former home of George Orwell on Portobello Road. The famous author of Animal Farm and 1984 lived in Notting Hill for many years. You can recognize the house on Portobello Road between Chepstow Villas and Pembridge Road by the blue plaque on the façade.
Unfortunately, the private garden which also played a big part in the film Notting Hill is in fact that, private. However, there are several other lovely gardens that you are allowed to enter in the neighborhood. Ladbroke Square Garden is the largest of the communal gardens in this area, and although it is considered a private garden you can easily get a peep in from the road surrounding it. Luckily, nearby Kensington Gardens is open to the public. This beautiful Royal Park is a wonderful place for a picnic. In the park you'll also find the royal residence Kensington Palace. For more information about Kensington Palace, see Discover Kensington Palace.
Another beautiful landmark in the neighborhood is The Tabernacle. This historic building was built in 1887 as a church, but was turned into a cultural arts center in the 1970s. The venue now includes a theater, pub and a beautiful garden courtyard. For a real church, head to the serene St John's Church on Ladbroke Grove. There are also many local galleries to be found in the area, such as Salon Contemporary and Graffik. The Museum of Brands, Packaging and Advertising is a wonderful museum on consumer culture in Colville Mews.
Finally, if you're in London in August, you should definitely check out the colorful Notting Hill Carnival!
We hope you've enjoyed this introduction to Notting Hill in London! What's your favorite movie location?