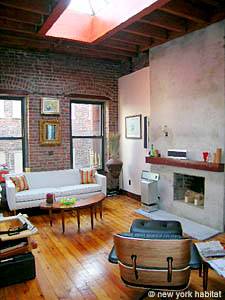 TriBeCa is an area of southern Manhattan roughly defined by the Hudson River to the West, Canal Street with SoHo to the North, Broadway with the Financial District to the East and Park Place to the South. Over the past 20 or so years, TriBeCa has gone from a neighborhood of mostly industrial buildings to one of the most chic residential neighborhoods in Manhattan. The combination of its proximity to Wall Street, the large loft-like spaces and the budding restaurant scene have combined to make TriBeCa's popularity increase.
The Apartments:
TriBeCa and Battery Park apartment offerings are unique in New York because of their generous size. Some of New York Habitat's listings there include a two-bedroom rental in TriBeCa (NY-347), and a one-bedroom apartment with a large roof terrace which has view of 7 World Trade Center (NY-12061).
The Culture:
The neighborhood has a strong connection to the movie/television industry as a number of stars — including Robert De Niro, Gwyneth Paltrow, Jon Stewart and Meryl Streep — have residences there. De Niro has increased the area's movie flavor by founding the TriBeCa Film Festival, which takes place at the end of April every year.
The area has also developed a hearty restaurant scene with many famous Midtown East and Midtown West chefs opening satellite locations in TriBeCa. Some of the famous spots include Nobu, a popular sushi joint, Wolfgang's Steakhouse, which is founded by chef Wolfgang Puck, and TriBeCa Grill, another of De Niro's downtown projects.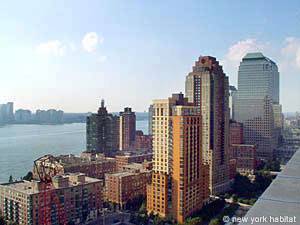 The Location:
TriBeCa's location makes for easy access around the city. The 1, A, C and E trains all have convenient access to the neighborhood. Trips to midtown are about 10 minutes by train and offices in the Financial District are mostly within a 10-minute walk. Attractions in the area include Battery Park, Wall Street and the Hudson River Park.
TriBeCa offers many perks and its own unique flair. If you decide that this would be the perfect place to find a furnished apartment or a TriBeCa vacation rental, remember to consider New York Habitat's varied offerings.