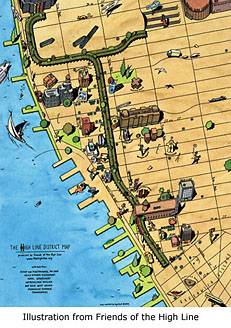 77 years ago, the New York Central Railroad constructed a nearly 2 mile stretch of elevated railroad tracks to shuttle freight up and down Manhattan's lower west side in Chelsea/ Flatiron. This elevated line, spanning 22 city blocks, literally passed through 2 factory buildings as it wound its way uptown to end near 35th street. (The deaths of many pedestrians on the 19th century street-level tracks was one factor in the High Line's construction ) For decades, the High Line allowed factories and meatpackers on the lower west side to move manufactured goods, produce, and meat products without disruption to traffic below and without danger to pedestrians.
Unused since 1980, and partially demolished in the 1960's, this "High Line" will soon spring to life again. ( In 2001, Former Mayor Rudy Guiliani attempted—and failed, to proceed with demolition of the High Line.)  Friends of the High Line, a community-based non-profit organization, has spearheaded efforts to save this historic structure and launched the 2003 competition to choose creative solutions to convert the High Line for public use. 720 entires were received! This conversion will play a great role in the dynamic revitalization of the lower west side of Manhattan.
The new High Line will not bring rail traffic, but will emerge as one of New York's most innovative and interesting urban renewal projects seen in decades. The design team of  Diller Scofidio + Renfro is currently at work on the project. Four principles guide the design: "Keep it Simple, Keep it Quiet, Keep it Wild, keep it Slow."
The design encorporates an elevated promenade with various types of vegetation. The designers hope that High Line visitors will stroll slowly while contemplating their surroundings as they experience  the notion that nature reclaims the man-made.
Why not consider a Chelsea apartment rental on the far west side near the High Line? To view design plans and support this exciting renovation, go to: http://www.thehighline.org/