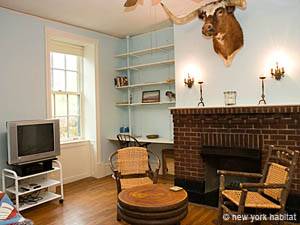 New York Vacation Rental 1 Bedroom in the West Village (NY-7565)
New York City's newest public park sits 30 feet above Manhattan's Lower West Side and atop a 1930's era elevated rail freight line. Located in Chelsea, High Line Park is the first public park of its kind in the United States, inspired in part by the Promenade Plantée also known as the Coulée Verte, a 4.5 km-long elevated park in the 12th arrondissement of Paris, France. The Promenade Plantée was similarly constructed on an abandoned 19th-century railway viaduct, which connected the Bastille area to the eastern suburbs of Paris.
For a long time the Promenade Plantée was the only elevated park in the world, but New York never likes to be outdone. Ten years of innovative urban planning and garden design culminated last month in the opening of the first half-mile section of the park. The abandoned rail line has been transformed into an elevated planted pedestrian walkway for the public to experience a first-hand example of how urban renewal and recycling can work hand in hand with historical preservation. The first section of the park runs from West Village's Gansevoort Street, in the Meatpacking District, to West 20th Street in Chelsea, between Tenth and Eleventh Avenues, and is open from 7am to 11pm daily (please visit the official website as the hours may change). Section 2 from 20th Street to 30th Street has opened open on June 8th, 2011. The total cost of completing both sections is around 152 million dollars, and approval for a third section is still in the works.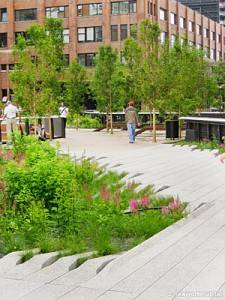 Photo of Highline Park
Exciting projects are popping up all around the city's newest park, which was famously photographed and documented back in 2000 by photographer Joel Sternfeld, when it was still just a wild landscape growing atop an abandoned railway line. One such project is the Whitney Museum's future downtown location, which is scheduled to be built at the southern end of the High Line at Gansevoort Street. Art galleries, shops and hotels also have flourished as this neighborhood has been going through a revitalization (or maybe the word "re-growth" is more fitting to the situation), all thanks to that spark of  imagination that got things rolling again on that old railroad.
There are tons of local events planned all year long including walking tours by architectural historians, art gallery tours, horticultural lectures, storytelling for the kids, parades, festivals and benefits. You can find information on the project and all the great events planned in the area or just make a donation to a great cause at http://www.thehighline.org.
Consider accommodations in Chelsea or apartments in West Village and Greenwich Village in order stay close to the park.
This 2 Bedroom vacation rental in Chelsea (NY- 9895) is located just steps away from the 20th street entrance to Highline Park!
This unique 1 Bedroom accommodation in the West Village (NY-7565) has country furnishings, giving it a log-cabin feel.
Highline Park has something for everyone. There are water features for the kids to splash around in, sundecks and lounge chairs for the weary New Yorker who just needs a rest from the rat race, and wildflower gardens surrounded by hundreds of species of plants for the nature enthusiast as well as the resident butterflies and birds to get lost in. You can take in panoramic views of the Hudson River while you stroll along, peeking through the glass flooring, as taxis race by beneath your feet. Only in New York, folks!
What do you think of New York City's newest park? Share your comments below.