Hello, this is David Hill with New York Habitat. In this video we will continue our  tour of the historic and diverse neighborhood called the Lower East Side.
This is the second half of our series on the Lower East Side.  If you haven't yet watched the first half, you can find it watch it in with the Video Tour of the Lower East Part 1 blog article.
Video Tour of the Lower East Side, New York – Part 2(5:09)
The Lower East Side is located on the south-eastern side of Manhattan. The boundaries of this neighborhood are ever-changing like many New York City neighborhoods, but a rough outline is Houston Street to the north, the East River on the east, Canal Street to the south, and Bowery to the west.
Brief History
The Lower East Side is one of Manhattans storied neighborhoods. In the late 1800's, many working class immigrants arrived in New York and lived in the many tenement buildings in the Lower East Side.  The Lower East Side has been called home by many different ethnic groups of the world.
Shopping & Restaurants
Orchard Street used to be full of affordable and wholesale clothing stores.  This street was even named "Bargain District". In the past ten years or so, though, the cheap stores have closed down to leave space to new designer shops, galleries and trendy restaurants and bars. The Bargain District continues to live on along Delancey Street but in a smaller form.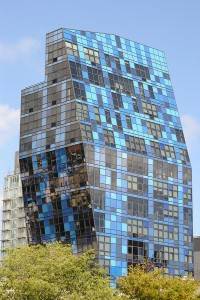 Trendy new apartments in the Lower East Side of New York
Furthermore, the Lower East Side is now a favorite place of many tourists and young-at-heart people who want to experience the New York City night life.
Café Falai at 68 Clinton Street is a nice Italian style coffee shop where you can have a hot cappuccino and croissant in the morning or a tasty dinner at night.
Across the street you can try brick oven pizza at San Marzano Pizzeria (71 Clinton Street), along with a nice glass of wine or beer.
The Orchard is another great restaurant located at 162 Orchard Street where you can find a mix of trendy European flavors blended in a New York-style meal.
Nightlife
You can choose among many restaurants of all kinds of international cuisine, or relax at any cafes with a cappuccino and croissant or dance and drink all night long in the many clubs and lounges of the area, which offer music and fun every night.
Check out the Mercury Lounge at 217 E. Houston Street where you can catch some fun rock bands almost every night. Arlene's Grocery at 95 Stanton Street is another entertaining place, which was originally a grocery store and is now a bar. Here you can see live music every night of the week.  If you like dancing and want to have a blast, you should visit the Sapphire Lounge at 249 Eldridge Street, where you can dance to the rhythm of various world beats.
New York Habitat offers many vacation rentals and furnished apartments all around the Lower East Side.  People from around the world love to stay here because of  the neighborhood's liveliness and diversity.  When renting an apartment, you get much more for your money than when staying in a hotel; our vacation rental apartments feature more space, fully equipped kitchens and offer the feeling of being at home.
Take a look at this fully furnished 1-bedroom apartment in the Lower East Side, New York (NY-11167) which is situated on the 4th floor of a walk-up building on Hudson Street. This apartment is furnished with a queen size bed and the living area is also equipped with a sofa bed, TV with DVD player and a stereo. The apartment also features a fully equipped kitchen.
This fully furnished 1-bedroom apartment rental in the Lower East Side , New York (NY-12864) is on the 3rd floor of a 5-story lowrise apartment building. With a dining area and the convenience of a washer and dryer in the apartment, this would be the perfect place to stay during your time in New York City.
East River Park
If you prefer to relax or play some sports, you can take a stroll on the East River promenade, where you can find football, soccer and baseball fields, tennis courts, a full size track and an amphitheater for public performances.
You can also enjoy the view of Brooklyn across the East River or even walk over to Brooklyn on on the Williamsburg Bridge!
I hope you enjoyed today's video tour of the Lower East Side.  There are many attractions in this area and we hope that it inspires you to take a trip to the Lower East Side soon.
If there are any fun stops in the Lower East Side that we missed, please leave a comment in the comment section below and let us know.