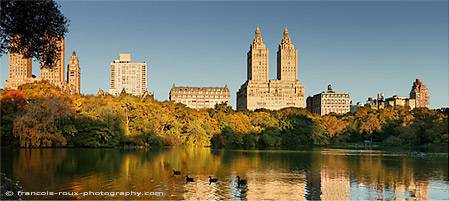 Are you looking to rent a furnished accommodation in New York, Paris or London? Are you environmentally conscious? Well if you said yes to both of these questions, New York Habitat can offer some tips to make your apartment rental more environmentally friendly.
What to look for when booking an apartment:
Double-paned windows

. Many of our apartments are equipped with double-paned windows, which are more efficient at keeping out the cold in the winter and heat in the summer.

Individually controlled heat and air conditioning systems

. Apartments with this type of setup allow you to control the amount of energy you use rather then continuously pumping out hot or cold air.

Proximity to the subway

. When visiting major cities, renting a car is not necessary. New York, London and Paris have three of the most extensive subway systems in the world, making it relatively easy to visit any part of the city by train. Furthermore, extensive intercity and commuter rail systems make it possible to travel as far as 100 miles from the city center in as little as one hour.

Rooftop gardens

. One of the new trends in environmentally friendly apartment design is buildings with rooftop gardens. This concept has been proven to keep a building cooler by deflecting the heat from the sun.
Tips for when you get to the apartment:
Remember to turn off lights before you leave the apartment

. Unlike hotels, there are no maids who come into our apartments during the day, so you need to be responsible for lights, air conditioning and electronics.
When leaving the apartment for the day, set the air conditioning to a warmer setting or turn it off all together. Turn off the lights in the apartment and don't forget to shut off the TV before leaving for the day. The electrical savings might be small on a day-to-day basis, but every bit counts and the owner of the apartment will be thankful that you were respectful in your usage and welcome you back to the apartment in the future.

Make sure the water is fully shut off

. Many city faucets are older and require an extra twist to get them to stop dripping. Even those few little drops can add up to a large amount of wasted water.
Some apartments that include these features are:
NY-15505 A Murray Hill studio apartment has individually controlled a/c and heat and is only 4 blocks from the nearest subway station.
NY-12699 A 1-bedroom in Battery Park with double pained windows and individually controlled heat and air conditioning.
Taking these simple steps to go green while staying in a furnished accommodation will help to keep prices from rising rapidly, make you a favorite client of the apartment's owner and give you the personal feeling that you have made an effort to conserve during your apartment rental.
Look for other green tips in the future as more apartment buildings and houses in New York, London, Paris and The South of France are designed with environmentally conscious features.
Photograph provided by francois-roux-photography.com