The 11th Arrondissement is to Paris as Williamsburg, Brooklyn is to New York. In short, the 11th Arrondissement is the spot that hip Parisians are flocking to. New York Habitat can help you avoid the tourist traps of Paris and explore the lively and artistic neighborhoods of the area. Our first stop is to take a look at this Three-Bedroom Duplex off of the Place de la Nation (PA-2472).
Colorful, Three-Bedroom Rental in Paris: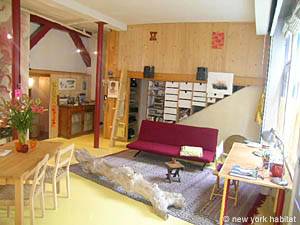 From the framed artwork throughout the space to the lobster and crab detail in the kitchen, this duplex home offers many conversation pieces. The lively array of colors on the walls, floor and furniture mix and match to create the eye-catching décor of this three-bedroom home.
The bedrooms, split amongst two floors, can sleep five people comfortably, while the large windows of the living room face east onto a small garden walkway.
Great for friends looking to explore Paris, this residential neighborhood contains several markets and shops of convenience.
The nearest metro stations are Nation (lines 1, 2, & 6) and the RER A.
11th Arrondissement, Paris: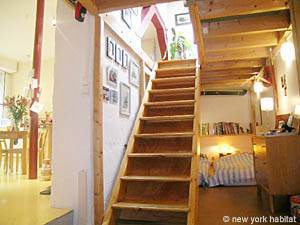 Most historically well known for being the birthplace of the French Revolution, the 11th Arrondissement has contemporarily become the hipster escape from all things tourist in Paris. Boasting the Place de la Bastille, Place de la Nation, and the Place de la République, the area is a fascinating combination of newly built, trendy designs and 19th century Haussmann influence.
The Place de la Nation (the neighborhood of our aforementioned three-bedroom rental) is a more family oriented region. Nearby, however, the area surrounding Rue Oberkampf boasts an exciting collection of shops, galleries, restaurants, and clubs. Oberkampf, the Place de la Bastille, as well as the famous Paris attractions outside of the 11th Arrondissement can all be reached via the many metro lines that converge within this location.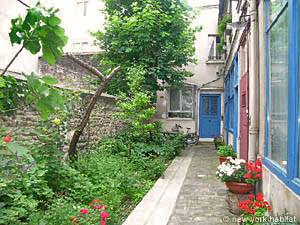 Why is this three-bedroom duplex a Hidden Gem?
Two floors of invigorating décor combined with the numerous delectable distractions of the area make this apartment a Hidden Gem. Easy access to four train lines only adds to its appeal.  Its increasing popularity makes the 11th Arrondissement a great area to live-in and visit during your stay in Paris.
For more information on the wonders of Paris, read Paris in Song – "Paris – Picture Perfect".
Where are the best places to dine in the 11th Arrondissement? What other Paris neighborhoods can you suggest? Comment below.