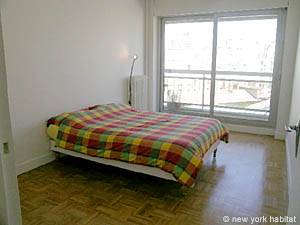 Paris' Bastille area is synonymous with revolution. Today, the quarter is still known for rapid change, but now the cultural remaking of the area is omnipresent. The world-class opera house stands in the footprints of the old Bastille prison and dozens of avant-garde galleries have sprouted throughout the right bank. While modern galleries and eclectic restaurants are fairly new to the quarter, New York Habitat and its vacation rentals have been in the 12th arrondissement for years.
This 2-bedroom apartment in the Bastille, Pere Lachaise-Nation district (PA-3589) of Paris [apartment not for rent anymore] is on the sixth floor of an elevator building. And, as far as views go, being on the sixth floor in Paris is like being on the fortieth in New York. Sprawling windows in each room offer iconic views of Paris rooftops. A balcony large enough for a small dining set perpetually entices visitors to enjoy the view with a cup of coffee in the morning, book in the afternoon, and bottle of wine at night. This apartment, though, is more than just a good view.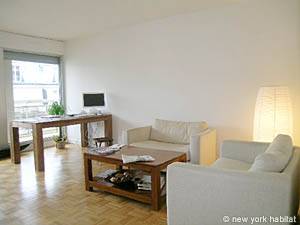 The interior is simple, bright and big (some 860 square feet). The living room's white walls, wood floors and homey decor let the floor-to-ceiling windows do most of the talking, loads of sunlight during the day and a glittering of street luminosity at night. The apartment has two nice bathrooms and a modern kitchen. Located in Paris' 12th arrondissement, this apartment is a stone's throw from 5 metro and 2 RER lines at the Bastille and Gare de Lyon stations.
Why is this 2-bedroom accommodation in Bastille, Pere Lachaise-Nation a Hidden Gem?
Plenty of space and two bathrooms make this space feel more like a home than just a hotel-style vacation rental. That said, the main draw to this apartment is undoubtedly the view. Both bedrooms, the kitchen and the living room all sport oversized windows that look onto your adopted Paris neighborhood. The long terrace, a rarity in Paris apartments, is just icing on the cake.
November 2011 : We are sorry but this apartment is no longer available for rentals but we do have many other options in the Bastille neighborhood :
For example, take a look at this very nice two bedroom vacation rental in Bastille (PA-3150) or this large  two bedroom apartment in the Bastille area (PA-1770) that faces a charming private garden