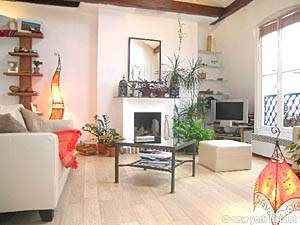 Away from the hordes of tourists packed along the Seine, this one-bedroom duplex accommodation (PA-3288) [apartment not for rent anymore] resides in the 11th arrondissement, a quarter where true Parisians live. Long overlooked by visitors to Paris, the area just north of the trendy Marais district offers scenic walks along the world famous Canal Saint Martin, an aesthetic gem in the Parc des Buttes Chaumont and countless ethnic and artistic enclaves.
Renters will be delighted with the amount of light and open space in this 11th arrondissement apartment that give it a distinctive, airy feel. While the open design of the apartment is surely attractive, the details are what really make this rental unique. The apartment is decorated in typical Parisian style; modern, worldly and eclectic. Exposed wood beams run throughout the flat and pair with the hardwood floors to give the apartment a warm, homey aesthetic. The bedroom sits atop a mezzanine which adds a touch of privacy to the open arrangement. This one-bedroom apartment is perfect for visitors looking to explore an authentic side to Paris often lost amid the throngs of tourists packed along the Seine.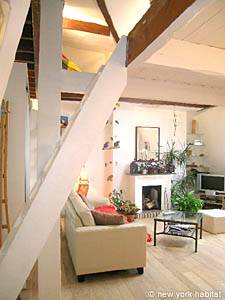 The Cite des Sciences/Buttes Chaumont has quickly become one of Paris' hottest neighborhoods. While mostly quiet and residential, the area boasts an array of trendy boutiques, cafes, shops and restaurants including the excellent Moroccan eatery Mansouria. The neighborhood is a short walking distance from the Pere Lachaise cemetery and aforementioned Canal Saint Martin and Parc des Buttes Chaumont. Best of all, central Paris' major attractions are just a short metro ride away. Another Hidden Gem in the area is a Three Bedroom Duplex in Paris' 11th Arrondissement (PA-2472) .
Why is this one-bedroom duplex in Paris a Hidden Gem?
A sleek modernist design combined with a central location in one of Paris' most sought-after neighborhoods makes this one-bedroom duplex apartment a Hidden Gem. The fact that the 11th arrondissement still flies under the tourist radar makes the apartment ideal for those looking for an authentic Parisian living experience.
And if ever this rental is already booked, we have plenty of other lovely 11th arrondissement apartment rentals.
Can you name the hit movie starring Audrey Tautou that highlighted the beauty of the quarter, specifically the Canal Saint Martin? What other films have iconic scenes filmed along the serene canal? Comment below.